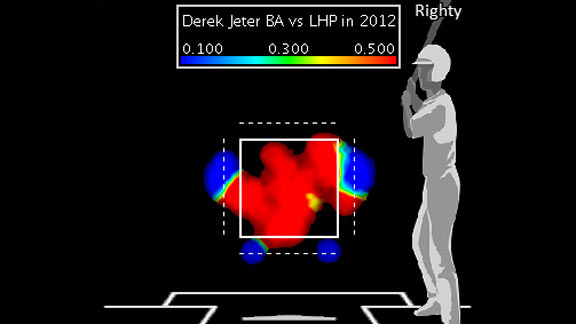 Derek Jeter is crushing left-handed pitching in 2012
Drew Smyly Matchups to Watch
A couple of days after facing Rangers rookie Yu Darvish for the first time, the Yankees will get a look at another rookie in Smyly, who has allowed two runs in 16 innings. The difference is that Darvish has the experience and free reign to go deep into games. Smyly's three starts have gone four, six, and six innings.
Nonetheless, Smyly did impress, striking out seven Rangers in six innings in his last start, one in which he allowed only one run.
Smyly may have vulnerability to a good left-handed power hitter, who can hit a fastball, which would make Curtis Granderson or Robinson Cano candidates for potential success. Left-handed hitters are 7-for-16 against Smyly. Josh Hamilton and Carlos Pena have both homered against him. Both were on 91 mile-per-hour fastballs.
Lastly, from the land of obscurity, we have this stat from a search on Baseball-Reference.com: The last four times a Tigers pitcher has started a game at Yankee Stadium within the first four games of his major league career, the Tigers have lost. Not only have they lost-- they've lost by the combined score of 34-11.
Freddy Garcia Matchups to Watch
Garcia is 18-8 career against the Tigers, though much of that success is contained from 2004 to 2006 when he went 10-2 against them and won a World Series with the White Sox.
He made a regular-season start and a postseason start against them in 2011, allowing four runs in each, pitching a combined 12 1/3 innings
Miguel Cabrera is 11-for-26 with four home runs in his career against Garcia, merging his regular season and postseason performance. That includes a line-drive home run to right field in last year's ALDS.
Garcia's issue is that he doesn't seem to have an effective way to get Cabrera out consistently. Cabrera has four hits in the last three seasons against Garcia on pitches that were below the knees. He's also been effective on getting hits against pitches over the outer-third of the plate.
Garcia almost never comes inside to Cabrera, doing so only 11 times in 97 pitches over the last three seasons. That might have something to do with Cabrera's 37 regular-season home runs against inner-third pitches in 2010 and 2011, seven more than the person with the next-most in the majors-- Adrian Beltre.
Jeter Watch
Derek Jeter had his 15-game hitting streak snapped and saw his batting average dip to .400 after going 0-for-4 in Friday's win.
Notable Yankees vs LHP
2012 Season
Jeter has feasted on left-handed pitching this season, going 17-for-28 against southpaws (including 4-for-4 against Rangers starter Derek Holland earlier this week).
Jeter is in a zone against lefties that rivals anything you could possibly imagine.
Based on our Pitch F/X pitch-location data, Jeter is 16-for-18 with a sacrifice fly when a turn against a lefty ends with a pitch in the strike zone. Two of the three outs he made came in the opening series of the season against the Rays.
The image atop the article shows Jeter's heat map against left-handed pitching this season.
A cap-tip to my colleague Will Cohen, who reminds me that Jeter is also one walk from 1,000 and two doubles from becoming the second Yankees player with 500 (Lou Gehrig has 534).
Jones Not Keeping Up
Even past his prime, Andruw Jones has always been a good hitter against pitches over the middle-third of the plate (width-wise-- meaning pitches that are not inside or outside). Until this season.
Jones is 0-for-7 with a sacrifice fly in at-bats ending in pitches thrown to those areas, so you could argue he's due to drive one to a good spot. Four of the outs have come vs lefties.
Over the last two seasons, Jones is 23-for-57 in such at-bats against left-handed pitching with six home runs.