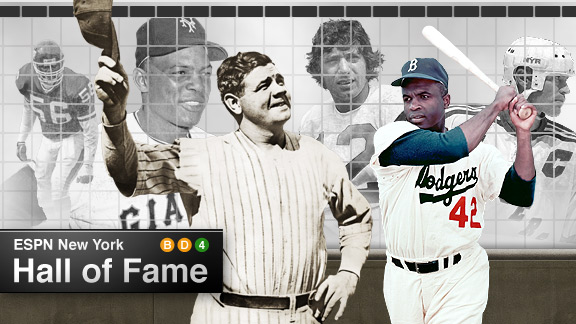 ESPN.com illustration
Vote: Pick the ESPN New York Hall of Fame class »
In honor of ESPN New York's inaugural Hall of Fame ballot, let's review our choices for the top Yankees of all time: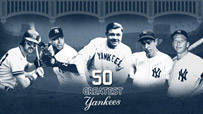 Choosing the 50 Greatest Yankees was daunting: Top 50

Rank 'Em
• Hall of Fame video

1. Babe Ruth
We disagreed on Nos. 2-50, but every ballot had the same No. 1: The Babe. Ruth embodied both Yankees dominance and excess, from his Curse to his curves, outhitting entire teams en route to a Hall of Fame career he began in Boston as a superstar pitcher.
2. Lou Gehrig
The Iron Horse saw his consecutive games streak end as ALS ravaged his body and ultimately took his life. But No. 4 found the strength to call himself "the luckiest man on the face of the earth." He was also the greatest first baseman in baseball history.
3. Joe DiMaggio
While Boomers boast about Mantle, The Commerce Comet, their fathers crow about Joltin' Joe, a three-time MVP who drove in 1,537 runs despite losing three prime years to World War II. The Yankee Clipper didn't just catch fly balls, he snagged Marilyn Monroe, too.
4. Mickey Mantle
In our closest race, The Mick was edged out of the top three by just a few points, but the switch-hitting Hall of Fame center fielder -- and hero of Baby Boomers from the Bronx and beyond -- is a top-fiver with three MVPs, a 1956 Triple Crown and seven rings.
5. Mariano Rivera
To be a top-five Yankee, you must be legendary, the dominant player at your position for a decade or more. Perhaps no one has owned his position like Mr. Automatic, the greatest closer ever. His five rings, 42 saves and a 0.71 ERA in October say it all.