As Mark Teixeira guided a horse with 9-year-old Owen Atkins sitting in the saddle at the Riverdale Equestrian Centre, the slugger's new friend smiled from ear to ear.
Watching from close by, Atkins' father, Dan, shared in that happiness of seeing the Yankees reach out to his son, who suffers from cerebral palsy, and other members of the Flying Manes therapeutic riding program.
"It's great. This is wonderful. Owen is a huge Yankees fan," Dan said while donning a Yankees hat. "You just can't put this into words. He's extremely excited. We watch a lot of Yankees games on TV. This is something he'll have for his whole life and it's really inspiring."
The Yankees kicked off HOPE Week 2012 by helping those involved in the Flying Manes program and presenting the organization with a $10,000 check. Teixeira, infielders Eric Chavez and Jayson Nix, pitching coach Larry Rothschild and Yankees general partner Jennifer Steinbrenner Swindal all attended the event in the Bronx.
"It's probably one of the best days in my life," said 8-year-old Michael Russo, a rider in the program who lives in the Bronx. "We got to meet baseball players and we got to be asked questions and be interviewed. This is like a dream come true."
Flying Manes is a nonprofit organization that helps those with physical and emotional disabilities by offering therapeutic horse riding instruction. It meets once a week and was started by Stefanie Dwyer and her husband Bricklin about four years ago.
On Monday, the Yankees surprised the young riders by bringing the horses down to an enclosed riding area and interacting with them. Some took laps around the track with the kids while walking next to the horses, while others helped groom the horses and clean their hooves. The players and young children even played games at times. For example, Atkins swung a miniature plastic bat and hit a ball out of Teixeira's hands.
"We really enjoying being with our fans and being with the community," Teixeira said. "Anytime you can put a smile on a kid's face, it makes it all worth it."
Dwyer hopes that the Yankees' kind act will help raise awareness of what small programs like Flying Manes can accomplish while raising the organization's profile. Parents who have children that ride in the program all praised Flying Manes.
Russo's mother, Lisa Higgins, was thrilled to see her son, who has autism, talking with reporters during the event, and she said Flying Manes has been very beneficial to him. Dan Atkins said the program helps Owen, who is bound to a wheelchair, with his physical and emotional development.
"[This was] absolutely amazing. We had no idea how big this was going to be. To have this opportunity for the kids in our program to meet these guys is absolutely priceless," Dwyer said. "This made everything. They're not going to forget this for the rest of their lives; this is all they're going to be talking about."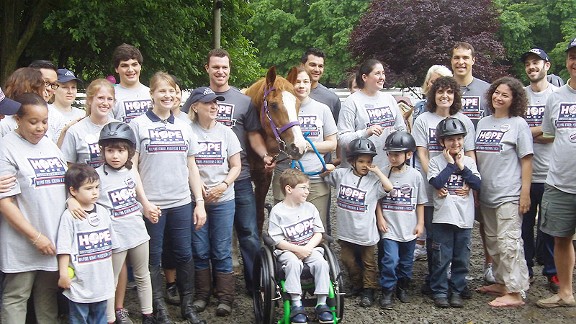 Matt Ehalt
Yankees players and members of the Flying Manes Therapeutic Riding program are all smiles during the team's HOPE Week visit.