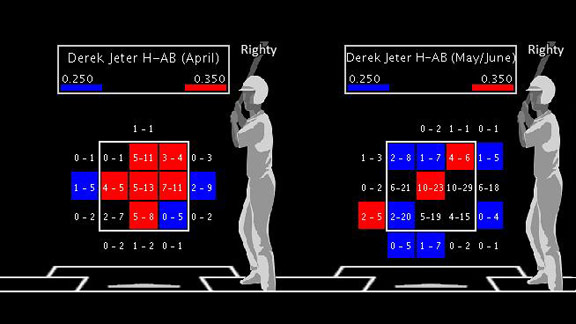 There have been more places in which pitchers can get Jeter out in the last two months.
Justin Masterson Stats To Watch
Masterson has mastered opponents in his last three starts, allowing two runs in 23 innings to the Cardinals, Pirates and Reds to earn himself a pair of wins.
Most notable among his stats against the Yankees? He has pitched 29 1/3 regular-season innings against them without allowing a home run. That's the most innings thrown against the Yankees by an active pitcher without yielding a long ball.
The reason for that is Masterson's sinker, which he throws more than three-quarters of the time. He's controlled it well in the last three starts, throwing it for strikes 69 percent of the time. He entered this most recent stretch with 53 strikeouts and 37 walks, but has whiffed 24 and yielded just three walks in these last three starts.
Curtis Granderson and Mark Teixeira are each 1-for-11 against Masterson, despite combining for only three strikeouts. Figure on the Indians shifting against both of them to better position themselves against groundballs. According to Baseball Info Solutions, the Indians entered last weekend with the third-most documented defensive shifts in the majors.
Phil Hughes Stats To Watch
After three good starts in a row, Hughes hit a rough patch against the Braves his last time out, allowing six runs (including four home runs) in 4 1/3 innings. Three of the four homers came when Hughes threw a pitch on the inner-third of the plate or further inside.
Hughes may be able to get away with that against the Indians. Cleveland hitters are batting .199 with a .634 OPS when a plate appearance ends with such a pitch. Only the Padres have a worse batting average, and only the Athletics have a worse OPS.
The one hitter he'll want to be careful with is Asdrubal Cabrera, who has 17 hits and a .333 batting average this season against inner-third or closer pitches.
Indians first baseman Casey Kotchman is 0-for-11 against Hughes. The only player worse is Rays utility man Ben Zobrist, who is 0-for-12.
Happy Birthday, Captain
Derek Jeter turns 38 on Tuesday.
Thanks to Baseball-Reference.com, we can tell you that for his career, Jeter is a .318 hitter on his birthday (14-for-44) with no home runs and three runs batted in.
Derek Jeter - 2012 Season
Andrew Marchand alluded to recent struggles by Jeter in his First Pitch earlier today, as his normally high ground-ball rate has increased over the last two months.
One thing worth noting: Jeter was 13-for-16 when hitting a line drive in April, but is just 19-for-34 since then.
For those who want to argue that Jeter has been a little unlucky, here's some statistical validation for that. Jeter is 19-for-31 since the start of May when hitting a line drive of more than 150 feet. The average major leaguer would net 24 hits on 31 outfield-hit line drives.
The primary culprit in Jeter's recent struggles has been right-handed pitchers getting him out with sliders. That's Masterson's secondary pitch. But Jeter is 6-for-15 against Masterson in his career.
Jeter has also not been himself recently in two-strike situations. His hit in the seventh inning Monday night snapped an 0-for-15 skid in two-strike plate appearances.
Jeter stands at 3,181 career hits. That's three shy of Cal Ripken Jr. for 13th-most of all time.