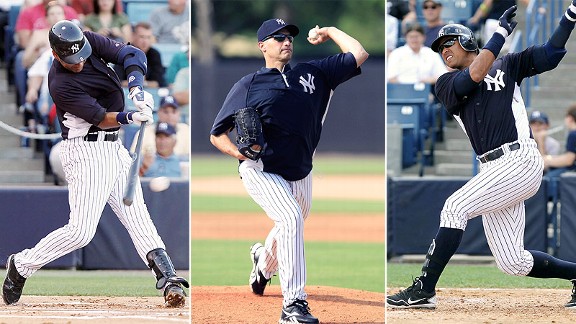 U.S. Presswire/AP Photo
Derek Jeter, Andy Pettitte, and Alex Rodriguez all have potential milestones upcoming.
Though there won't be any celebrations of milestones along the lines of Derek Jeter reaching the 3,000-hit mark, the 2012 season could be one of notable statistical accomplishments.
Here's a snapshot look at a few of the individual (and one team-related) numerical pursuits for the Yankees.
Jeter's chases for good and for bad
Jeter isn't going for any milestones of the level of 3,000 hits, but he is pursuing some statistical achievements.
Career Hits Leaders Within Jeter's Reach
He's currently 74 games from 2,500 and 132 at-bats from 10,0000, the former of which has been reached by 52 players in major-league history, the latter by 25.
The chart on the right shows who Jeter will pass on the all-time hits list. With a 196-hit season, Jeter would shoot past nine legends of the game.
Jeter's chances of reaching 4,000 hits, once mildly reasonable, are now slim. If he averaged 200 hits over the next four seasons, he'd still be 112 shy of 4,000.
But another 150-hit season would be the 17th in a row for Jeter, matching Hank Aaron for the longest such streak all-time.
Jeter also has 1,653 career strikeouts, 57 shy of Mickey Mantle's Yankees record. Jeter ranks higher on the all-time strikeout list than you might think, presently in 30th place, just behind his teammate, Andruw Jones.
A 100-strikeout season would put Jeter in the top 20 in that stat all-time.
Pettitte's record pursuits
Speaking of strikeouts, one of the neat things about Andy Pettitte's return is that he will have a chance to break the Yankees record for strikeouts by a pitcher.
Most Consecutive .500+ Seasons
MLB History
Whitey Ford holds the mark with 1,956 whiffs, 133 more than Pettitte. Ford's hold on the record began in 1963 when he passed fellow Hall-of-Famer Red Ruffing.
Given that Pettitte's season won't likely start until May, it's no guarantee that he'll pass Ford. If he does, it will likely happen in the final weeks of the season.
A-Rod moving up
Alex Rodriguez enters the 2012 season with 629 career home runs, one shy of Ken Griffey Jr. for fifth-most and 31 behind Willie Mays for fourth place.
For some perspective on Rodriguez's chance of finishing as the all-time home run leader, consider this: If Rodriguez averages 33 home runs in each of the next four seasons, he'd still be one shy of Barry Bonds' record of 762 at the end of the 2015 season.
Rodriguez also enters the season with 1,893 RBI. Among the immortals he'll pass on the way to 2,000 are Willie Mays (1,903), Stan Musial (1,951), Lou Gehrig (1,996), and Babe Ruth (1,988).
Only one player has officially reached 2,000 RBI-- Hank Aaron. RBI were not counted as an official stat until 1920, though Ruth surely had enough with the Red Sox prior to that season to surpass 2,000 (independent historians give him 2,213). Research also indicates that turn-of-the-century star Cap Anson cleared 2,000 RBI in his career.
Rodriguez will also likely reach the 2,000-strikeout mark this season. Adding 84 to his ledger would make him the fifth player to reach the mark, along with Reggie Jackson, Jim Thome, Sammy Sosa, and Andres Galarraga.
Almost 20 Would Be Good Enough
CC Sabathia has won at least 19 games in each of his three seasons with the Yankees. Only three Yankees pitchers have had a four-year streak with at least that many victories-- Jack Chesbro (1903-1906), Red Ruffing (1936-1939), and Vic Raschi (1948-1951).
My Yankeemetric-writing blogleague, Katie Sharp, who assisted with a few of the notes here, also pointed out that if Sabathia wins exactly 19 games, he'd have four seasons with exactly 19 wins, tied with Jim Bunning for second-most, one behind Greg Maddux.
Nova's winning ways
There are six prediction systems on Fangraphs.com and they're all rather pessimistic on Ivan Nova for 2012, largely due to his unimpressive strikeouts-per-nine-innings rate and strikeout-to-walk ratio in 2011.
But Nova will enter the 2012 season with 12 straight regular-season wins, four shy of the franchise record win streak, set by Roger Clemens in 2001.
20-20 Vision
Should the Yankees have a winning record this season, it would mark their 20th straight. It would also put them past the halfway point towards the all-time mark of 39 straight winning seasons, set by the franchise from 1926 to 1964.