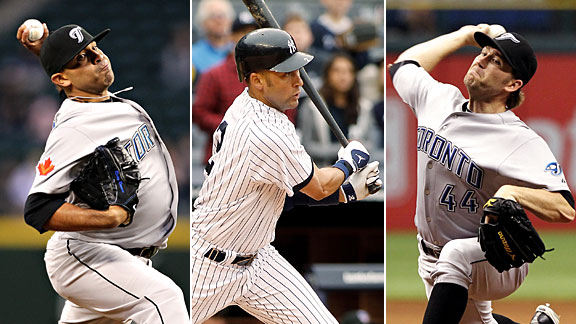 Getty Images/U.S. Presswire
Ricky Romero (left) and Casey Janssen (right) have both dominated Derek Jeter recently. Jeter will get another shot at them starting tonight.
Within the next couple of days, Derek Jeter may face two of the pitchers who could give him significant trouble in his 3,000-hit pursuit.
Jeter enters Monday 0-for-11 with six strikeouts against Blue Jays reliever Casey Janssen, whom he could match up with as soon as tonight. The two have met three times this season and Janssen has won the matchup each time.
On Tuesday, he'll be tested by Blue Jays starter Ricky Romero, against whom he is 2-for-16 in his career. He snapped an 0-for-6 skid against Romero with a bunt hit on April 29.
That got us to thinking: Who else could comprise the Jeter bugaboo team? And are they in the way of his 3,000 hit chase?
With the help of Baseball-Reference.com, we checked it out.
Jeter: Worst BA vs Active Pitcher
Entering Monday
• Jeter's worst 0-for against any pitcher is the 0-for-14 he sports against ex-Orioles (and other teams) reliever Jorge Julio, who last pitched in the majors in 2009. He doesn't figure to face Jeter again unless someone brings him out of retirement.
• Among other current starting pitchers, the one giving Jeter a lot of trouble is Angels ace Jered Weaver. Jeter is 2-for-17 against Weaver, against whom he got two walks and a hit in his first three career plate appearances. Weaver's teammate, currently-disabled Scott Kazmir has held Jeter to similar struggles (6-for-42), but has struggled recently to get anyone else out.
Jeter and the Yankees could see both Weaver and Kazmir when they face the Angels June 3-5.
• Right after that series, another nemesis stands in Jeter's path. Jeter is 1-for-14 career against Red Sox reliever Matt Albers, including 0-for-his-last 12.
The Yankees will face the Red Sox (and potentially Albers) June 7-9.
• The Yankees have historically owned reliever Arthur Rhodes, but in the regular season, Jeter has traveled a long and winding road versus Rhodes. Jeter is 2-for-14 against Rhodes, but homered in his last at-bat against him to give the Yankees the lead on May 8.
Some project Jeter will reach 3,000 hits against the Rangers. Rhodes will try to stop it when they meet June 14-16.
One thing for Janssen and some others to keep in mind. As Jeter faces you more and more, the more likely he is to eventually figure you out.
A quick example of that: Jeter started his career 0-for-13 against Mariners lefty Jeff Fassero, which according to the Elias Sports Bureau is the second-worst 0-for Jeter has had against a pitcher to begin his career (trailing only 0-for-14 vs Julio).
The next two times that Jeter faced Fassero were eight months apart in late 1997 and early 1998, but what did he do in both of those plate appearances?
He hit home runs.