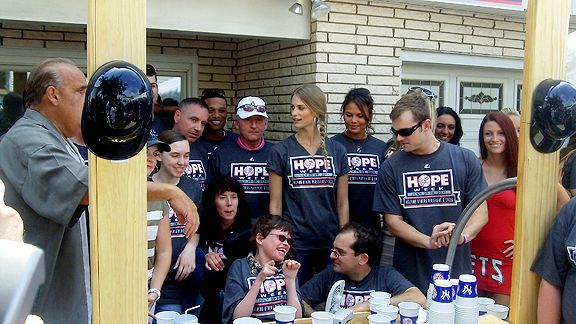 Matt Ehalt for ESPNNewYork.com
Yankees players, including Robinson Cano and David Robertson, spend the day with 17-year-old Megan Ajello, who suffers from cerebral palsy and scoliosis, as part of HOPE Week.NEW YORK -- Outside the house, tucked away on the right-hand side of a residential street in Staten Island, stood a deep group of guests, waiting to see 17-year-old Megan Ajello.
Inside the house, Megan's mother, Linda, waited with Megan, who suffers from cerebral palsy and scoliosis, wondering if the large crowd would overwhelm her wheelchair-bound daughter.
As soon as the door to their beige-colored house opened, and she saw Yankees general manager Brian Cashman and Staten Island Yankees mascot Scooter the Holy Cow, among others, Megan flashed a smile that couldn't help but warm your soul.
Then she saw the gift the Yankees had brought Thursday to help with her lemonade sale, and it seemed almost too good to be true.
"They made her this wheelchair-accessible lemonade stand. How amazing is that?" Linda said. "It's just something every year that when we do it for the Special Olympics, she's just going to remember this day."
As part of their yearly HOPE Week initiative, the Yankees and other celebrities helped make Ajello's sixth annual lemonade stand a grand event as they donated their time and money to help raise funds for the Special Olympics. The event raised more than $15,000, according to a Yankees official.
Cashman, second baseman Robinson Cano, pitcher A.J. Burnett, shortstop Eduardo Nuñez, relievers David Robertson and Boone Logan, outfielder Andruw Jones and coaches Mick Kelleher and Rob Thomson were all on hand to take part in the festivities, which included a dunk tank that several Yankees gladly agreed to sit in.
The Yankees also gave a $5,000 check to the Special Olympics and a $5,000 check to Megan's school, the Seton Foundation for Learning, located in Staten Island.
"It's completely overwhelmed us," Linda said. "I can't imagine everything they've done today. I can't process it right now."
Megan also had spinal fusion surgery last year that put 37 screws and two rods in her back. Despite the effects that cerebral palsy has on Megan's day-to-day life, as it leads to constant muscle spasms and makes daily activities tough for her, according to Linda, Megan still spends plenty of time trying to help her community.
The lemonade stand, her sister's idea, has raised money for the Special Olympics for the past five years. It helps get her friends from school, karate class and others from around their neighborhood to come together for a great cause.
Linda said when she asked her daughter earlier in the day what it was all about, Megan told her she wants to help others.
"I appreciate being here and I felt like we're riding on this family's coattails with the goodness they are doing in the community," Cashman said. "I'm appreciative the Yankees can participate in the efforts they started. Hopefully in a small way or a big way and we can help those efforts along."
Thursday, under a sweltering sun, was filled with smiles and fun -- and, of course, cups of lemonade. When Megan wasn't helping refill cups adorned with Yankees logos, she watched as Cashman took a dive in the dunk tank early on and said that getting to dunk her father in the tank later was her favorite part.
A crowd of approximately 300 people showed up, mingling with Megan and the ballplayers. Burnett and his two sons event spent a long period of time hopping back up into the tank and getting splashed.
It's a day Megan and plenty of others will never forget.
"It's exciting and inspirational because you hope that it spurs us on to keep doing more," said Megan's father, Daniel. "Hopefully the other people will see what she can do and realize they can do this stuff with their children and get them involved."