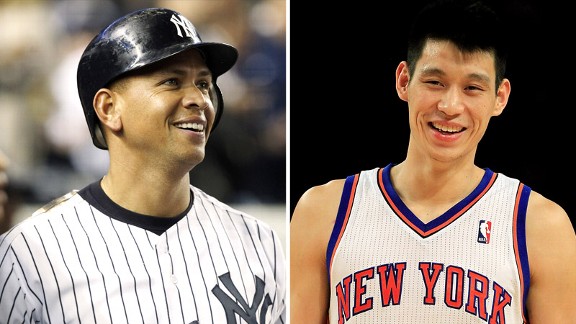 AP Photo/Getty Images
Alex Rodriguez's career has been the exact opposite of Jeremy Lin's.
A-Rod was a can't-miss prospect, the No. 1 pick everyone wanted. Lin, an undrafted point guard out of Harvard, was cut by two NBA teams.
That doesn't mean A-Rod is not caught up in Linsanity.
In fact, Rodriguez -- who is set to make more than a half-billion dollars in his career -- says if Lin needs a place to stay, he's got room.
"If he's still looking for a place to crash, maybe he can crash at my apartment," Rodriguez said with a smile. "Imagine the tabloids then?"
Overall, Rodriguez wants to join the wave that the Giants and the Knicks have been riding.
"You look at the Giants, you look at Linsanity, there's been so many great things happening in New York," Rodriguez said. "We kind of feel like we want to jump in the party."
Rodriguez feels the joy of the Lin story. Lin was summoned off the end of the Knicks' bench on Feb. 4 -- and saved their season. The Knicks are 9-3 since, with Lin averaging 21 points and 8.1 assists per game in February.
"The great thing about Linsanity is it kind of reminds you how fun the game should be," Rodriguez said. "For some of us that have been playing for a long time, if just for one second you've taken the game for granted, it makes you realize how much fun the game is."
For the record, Lin doesn't need a place to crash. After sleeping on his brother's couch for more two months, he recently found an apartment of his own.