EAST RUTHERFORD, N.J. -- On a night with plenty for Giants fans to cheer about, two members of the Big Blue endured the boos. The first was expected, when Tiki Barber took the field for a halftime ceremony. The second was rookie punter Matt Dodge.
In the first half, he dropped the ball as he was about to punt, grabbed it, took a short lateral run and punted again.
It was a lot wackier than a special teams play is supposed to be, and Giants coach Tom Coughlin said he was disappointed that Dodge still has moments like that.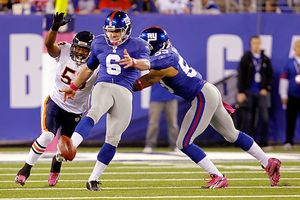 Michael Heiman/Getty Images
One of Matt Dodge's punts turned into a Keystone Kops routine.
"Sure I am," Coughlin said. "Anytime you got a lump in your throat over what should be routine things, you're going to have that."
Dodge also had trouble finding the laces when he was the holder for kicker Lawrence Tynes on a field goal attempt. Tynes ended up missing the field goal, but he wouldn't call out Dodge.
"We'll fix it," Tynes said. "I know what it is, we have to fix it."
Dodge said he just couldn't find the laces on the ball and get it down in time, so he just put it down and Tynes missed. It bothered Dodge, because that counts against the kicker, not the holder.
"Sometimes I can't find the laces quick enough," Dodge said.
The learning curve has been steep for the rookie, but the team has stuck with Dodge through it all. Dodge said that he appreciates all the encouragement, and just has to keep believing that he was drafted by the Giants for a reason.
"It's humbling, I haven't punted nearly as well as I've wanted to yet and [Coughlin] still believes in me," Dodge said. "That helps me out a lot because I'm easily my biggest critic night in and night out. For him to give me words of encouragement it's awesome because it's definitely a coach I looked up to growing up."
Coughlin has praised Dodge's work ethic, but when he risks turnovers by dropping the ball before a punt, that patience may start to run out. Still, all Dodge said he can do is continue to put in the time.
"I don't want to just be good. I want to be a great punter one day," Dodge said.