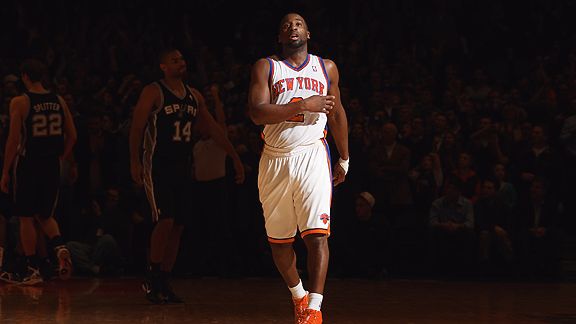 Nathaniel S. Butler/NBAE/Getty Images
Raymond Felton's production -- and shooting percentage -- tapered off in the new year.Knicks All-Stars

All-Star Game coverage »
Well, not everybody loves Raymond.
Eastern Conference coaches selected seven players to fill out the conference's All-Star Game roster and Knicks point guard Raymond Felton wasn't one of the reserves.
Instead, four Boston Celtics were named to the team. Guards Rajon Rondo and Ray Allen were selected along with forwards Kevin Garnett and Paul Pierce. Atlanta's Joe Johnson earned the third reserve guard spot.
Felton's case to earn a roster spot appeared strong in mid-December, when he was scoring more than 18.5 points per game and shooting around 46 percent from the field.
But he hurt his candidacy over the past five weeks.
Felton has hit less than 40 percent of his shots in 12 of the Knicks' 16 games since Jan. 2. He's reached his season average (17.1 points per game) just six times in that span, including his 28-point performance against the Spurs on Jan. 2. He's averaging 8.9 assists (third in the East) and 1.9 steals (second in East) per game.
Before the results were announced, Felton said he believed he had done enough to earn a bid to his first All-Star Game.
"I'd be crazy if I said I didn't," he said after Thursday's practice.
It's hard to argue with the other All-Star reserve selections in the Eastern Conference backcourt. Rondo is averaging a league-high 12.5 assists and a conference-high 2.46 steals.
Johnson struggled early on after missing nine games with an elbow injury, but has averaged 26 points and shot 50 percent from the field in January. Allen is averaging 17.3 points per game, shooting 50 percent from the floor and 45.8 percent from beyond the 3-point arc.
The Western Conference team has three point guards and the East has just two. So a case could be made for Felton over Allen, Miami's Chris Bosh or Pierce, based on matchups with the opposing conference. But the Eastern Conference coaches didn't see it that way.
Felton had taken a nonchalant approach to the potential bid over the past few days.
"If I can be there I would love to go. But if not it really wouldn't matter either way," Felton said on Thursday. "I'll go home and spend time with my family."
Four days off during the All-Star break will be beneficial for Felton, who has been bothered by a right-hand injury he suffered in the Knicks' loss to Boston on Dec. 15.