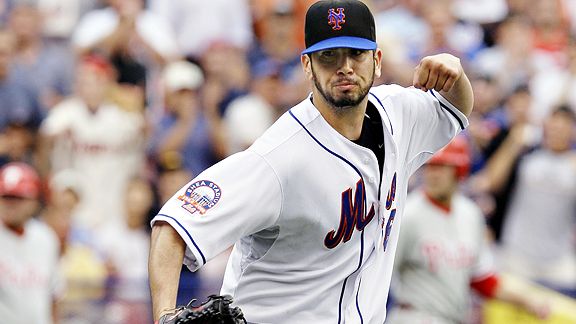 AP Photo/Julie Jacobson
The Mets would like to see this kind of reaction from Oliver Perez if they were to make him a left-handed specialist
Adam Rubin wrote late Sunday night that the Mets are giving serious consideration to the idea of trying $12-million man Oliver Perez as a lefty specialist.
Sure, that's not exactly what Perez's role was intended to be when he signed his three-year deal after the 2008 offseason. But at this point, if the Mets decide to keep Perez on the team and the manager commits to using him regularly, this might (and we use might with what you could call untrusting optimism) actually work out in a manner that isn't as horrendous as it might sound.
Oliver Perez vs LHB
MLB Ranks Since 2007
If you're looking for the slightest sliver of hope from Perez, look to the 2007 and 2008 seasons for inspiration. It's a distant, bittersweet memory, but one of the best things about Perez in those two seasons was his performance against left-handed hitters.
• Lefties hit .179 against Perez in that span, fifth-lowest among 234 pitchers who faced at least 230 lefties. In 2008 lefties hit .158 against Perez (the only pitcher against whom they were worse was Mariano Rivera). Perez's opponents on-base percentage over that two-year period was .265, eighth-best overall and 11 points better than situational southpaw teammate Pedro Feliciano.
• Perez befuddled the lefty power hitter that the Mets have faced most frequently over the last few seasons, Phillies first baseman Ryan Howard. In 2007, he was 0-for-6 against Perez with five strikeouts and two walks. In 2008, he was 1-for-12 with eight strikeouts.
• Willie Harris, who has historically tormented the Mets both with his bat and in the field, couldn't hit Perez either. In that two-year stretch, he was 0-for-10 with three strikeouts and two walks.
• In 2008, when Perez was at his most effective, he had a weapon that most left-handed hitters could not touch—a slider that averaged 79 miles-per-hour (a 12 mile-per-hour difference from his fastball) and dropped out of reach.
Perez got left-handed hitters to miss 57.3 percent of the time against his slider that year, the third-best rate in baseball. The only left-handed pitcher to get more strikeouts against lefties with his slider than Perez that season was future Yankee CC Sabathia.
Last year, amidst all the misery that Perez's appearances brought, there was one statistical positive. Perez threw 35 sliders to lefties and did not allow a hit. Those hitters took 17 swings and missed on 10 of them. The problem was the miniscule three swings-and-misses on 64 swings against Perez's easily-tattooable 88 mile-per-hour fastball. It also didn't help that he walked 11 of the 56 lefties he faced and hit three others.
We could probably write a piece listing 100 good reasons why the Mets should cut Perez loose. But if you find yourself having to defend the front office for its thinking in this manner, feel free to reference the notes above, no matter how painful it is to try to contemplate what kind of performance may come in the future.