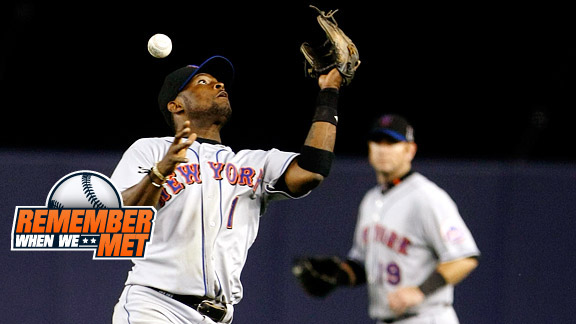 U.S. Presswire/Noah K. Murray
Is there a worse way to lose a baseball game than this?
Each week, Mark Simon will commemorate the Mets' 50th season with stories and notes related to the history of the team. This week's piece is on devastating defeats.
***
"After all these years, you should know that this team doesn't have a sense of humor."
-- My father, after the Mets lost Monday on Burke "1-for-23" Badenhop's base hit.
I have used the line publicly on a few occasions that METS stands for "Must Endure Thy Suffering."
If you are a Mets fan, your life has occasionally dabbled in the thrill of victory, but more often than not, your life has been about the agony of defeat.
Monday's loss was the latest challenger to the title of "Most Agonizing Regular Season Loss in Mets History."
However, in my mind, it falls a little bit short of "The Luis Castillo Game" standard. I'm still feeling the effects of that game, and my recollection of screaming, turning off the television, and boycotting baseball for the next 24 hours still rings in my brain as the Mets take on the Yankees on Friday.
Before sharing whether you feel the same way, I want to make sure that you're making a well-informed judgment.
Mets' Worst Regular Season Loss?
So let me share with you what I call the "METS Encyclopedia of Losing." Some brief recollections on other games with a similar standard of horrific-ness, with the help of the "Ulti-met" textbook, the 1981 version of This Date in Mets History and Baseball-Reference.com.
The origins of METS losing date back to the very first game the team played in New York, a 4-3 loss to the Pirates on unlucky April 13, 1962. The key play came in the second inning when Bill Mazeroski's popup fell between two converging Mets outfielders and turned into an RBI triple.
That season, one of 120 losses, was filled with many METS-ian losses, the next-most notable of which was an 8-7 loss in the opener of a doubleheader that June 17 against the Cubs. That's the day in which Marv Throneberry's blunder, in which he was ruled out after a two-run triple for missing first base (As a Mets coach told Casey Stengel, he missed second too).
That would prove costly when the next batter homered, scoring only one run instead of two. Throneberry missed out on the chance to atone for his baseball sin when he struck out to end the game with the tying run on base.
Misplays at bat, on the bases, and in the field, were a well-strung theme of the METS way. On August 27, 1963, they lost in walk-off fashion on a Little League Home Run, when Manny Mota's single became a four-base error, turning a potential 1-0 Mets win into a 2-1 METS defeat.
In that instance, the Mets were at least playing players at their proper position. They lost a 1967 contest, 7-6 to the Dodgers, when after Jerry Grote's ejection, they were forced to use a left-handed catcher, Tommie Reynolds, late in the game, and the game ended with a walk-off passed ball.
There were some other doozies among the 799 regular season losses in the 1960s. The Mets lost in 24 innings to the Astros (1-0 on an error by shortstop Al Weis) and 23 innings to the Giants, despite turning a triple play in extra innings..
The 1969 season made up for a lot of METS mishaps, but come 1970, the METS mannerisms would resurface again.
On August 15, 1970, Tom Seaver held a 2-1 ninth-inning lead against the Braves, but with the bases loaded and one out, disaster struck. A strikeout coincided with a wild pitch that plated both the tying and winning runs as Mets players watched in a state of shock.
Great pitchers are not immune, nor are great pitching performances. In 1971, Gary Gentry had a 2-0 lead and a one-hit shutout with two outs in the ninth inning. The Phillies would rally to tie and win in extra innings.
Yogi Berra has seen a lot of unusual baseball moments in his life, perhaps more than any living human being. But it was probably best that the Mets manager was in Cooperstown rather than in the dugout on August 7, 1972, when a Cleon Jones misplay resulted in Ted Sizemore's game-ending inside-the-park home run.
The 1973 season had its share as well. As we noted the other day, the Mets lost a game that season on an opposing pitcher's extra-inning hit.
But "Ya Gotta Believe" is much more memorable, so we tend to forget those games (perhaps fodder for another story). In fact, as METS fans, we're best forgetting the rest of the 1970s, so it isn't worth noting how the Mets once had a walk-off hit overruled and turned into an inning-ending out in an extra-inning loss to the Cardinals (the same team that would beat them in 25 innings later that season); how Del Unser beat them with a home run, two days after being traded by them, and Davey Lopes' game-ending three-run home run, moments after a dropped foul pop would have sent him to the bench and given the Mets a win.
As far as blown leads go, few would top April 19, 1980, when the Mets blew a 9-1 advantage at Wrigley Field and lost 12-9 (another game would come close).
The good news about the 1980s was that, to play off a slogan, The Magic Was Back. Yes, there were some bad losses, like the 26-7 thrashing by the Phillies on June 11, 1985, but in the annals of disgusting defeats, the number shrank enough to make being a METS fan tolerable.
Yes, the 1983 team did lose a game on a game-ending grand slam by Phillies catcher Bo Diaz when up three runs with two outs in the ninth. And yes, the home runs by Terry Pendleton and Willie Randolph (whose Dodgers would also best the Mets via walk-off balk) in the heat of a pennant race provided for moments of extraordinary unpleasantness.
So too did multiple trips to Pittsburgh in which inept Pirates teams downed Mets squads that were far superior, in ridiculous fashion, in the heat of the pennant race. Those were truly the PITs (cap-tip, fellow blogger Greg Prince).
But remember that there was a bit of an evolution. The mid-to-late 1980s were the best times in Mets history. The METS became a team that survived and advanced, winning even when the opposing pitcher hit a two-out, two-strike, 18th inning home run at 3 o'clock in the morning.
Come the 1990s and all that good stuff went out the window.
June 1, 1991 set, at least in my mind, a unique standard. That day, the Mets lost to the Cardinals on Milt Thompson's broken-bat hit. The hit could have been cleanly fielded by first baseman Dave Magadan, except he was ducking a bat shard at the time the ball went right past him.
Pity the 1993 METS fan, who endured 103 losses that season. Anthony Young endured the worst of it, suffering through much of an undeserved 27-game losing streak, with one galling defeat coming after he had a one-hit shutout into the eighth inning.
Remember These?
Recent Crushing Defeats
Even after that streak ended, there were still gut-wrenchers galore. Young lost another game to the Phillies on a walk-off grand slam by light-hitting Kim Batiste, which came after a Mets misplay that turned a potential win into a disgusting defeat.
This piece has rambled on for quite a bit, and if you haven't punched your computer by now, does my referencing the name "Dante Bichette" and his walk-off home run on Opening Day solve that? How about the words "Brian Jordan?"
Bringing up Kenny Rogers probably would too, but remember, we're only talking regular season games here (we can discuss the merits of walking in the winning run vs. taking strike three in Game 7 of an NLCS at another time).
In the interests of brevity, I'm going to sum up the rest of the games that I'd include for consideration in the box on the right. Feel free to click through some of ESPN.com's game stories to reminisce, but consider it fair warning that doing so may be hazardous to your health.
And if you've gotten this far, kudos to you. Someday, your suffering shall be rewarded.