Jerry Manuel, who before Thursday's game explained why he sat Jason Bay even with Jose Reyes and Angel Pagan sidelined, found himself with other tactical decisions to review after a 2-1 walk-off loss to the Washington Nationals in the series opener: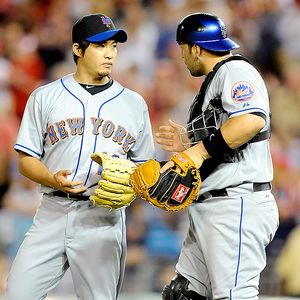 Greg Fiume/Getty Images
Catcher Rod Barajas chats with Ryota Igarashi before the reliever serves up a game-ending sacrifice fly to Ryan Zimmerman.
1. Manuel insisted closer Francisco Rodriguez was not the right person to summon with the score tied in the bottom of the ninth, one out and the bases loaded. Instead, Ryota Igarashi entered to face Ryan Zimmerman and surrendered a game-ending sacrifice fly.
"That's not what a closer does. That's not his role," Manuel said, a belief reiterated by pitching coach Dan Warthen.
Manuel then appeared to make the case that the Mets need a bona fide back-end-of-the-bullpen-type reliever more so than a starting pitcher. He suggested the Mets' inordinately high number of walk-off losses -- nine -- is tied to the lack of a legitimate eighth-inning pitcher.
The Mets had hoped in spring training Kelvim Escobar and Igarashi would team for that role, but Escobar will never throw a pitch for the organization because of a shoulder injury and Igarashi has underwhelmed. The most trusted eighth-inning pitchers at this point are Pedro Feliciano and Elmer Dessens.
"All the walk-off losses on the road is indicative of an eighth-inning guy. That's where an eighth-inning guy pitches. It's basically that simple," Manuel said. "If that eighth-inning guy is the guy, he pitches the tie game on the road. At home, the closer pitches the tie game because you get a chance to bat. That's just the way that works. I mean, that's baseball."
2. Why lift Johan Santana after 97 pitches, when the left-hander had limited the Nationals to one run in seven innings? Manuel offered two reasons: the importance of getting Santana out on a high note after four straight starts in which he had allowed four-plus runs, and because the Nationals had started to get to him, placing runners in scoring position in each of Santana's final three innings.
"I thought he pitched well. I didn't want him to go back through the middle of the order again," Manuel said. "I thought the guys had hit some pretty decent balls hard on him, and I wanted to get him out of there with a positive. I had no problem with that at all.
"I thought he looked real good. I thought the fastball, I think we're starting to see it a tick better each time out velocity-wise. The changeup was good. He pitched well. I wanted to make sure that he pretty much left this game with a good positive in going forward. I thought that was important.
"We didn't put any runs on the board. It wouldn't have mattered if he pitched two more innings. I think it was the right thing to do."
There were a handful of other nitpicky items that could be dissected.
Bay pinch hit for Henry Blanco with two out in the ninth, with a tie score and no one on base. If Rod Barajas was going to enter the game anyway for Blanco, and if the Mets were looking for a homer, arguably Barajas could just have been sent to the plate to pinch hit and Bay could have been saved, although that turned out moot with the loss a half-inning later.
Then, there was the decision to let Pagan enter the game and bat lefty late, but not to start him. Manuel suggested the intention was to hold Pagan out, but the outfielder felt good taking late swings before the game and the situation called for his use.