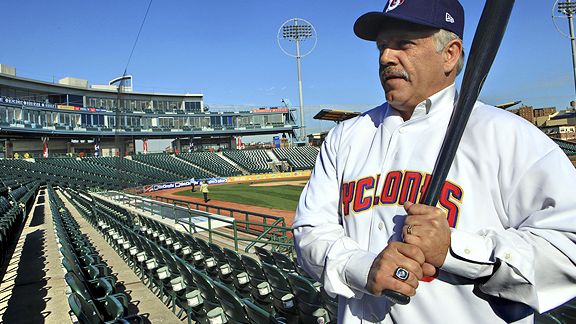 AP Photo/Bebeto Matthews
Wally Backman has managed the Brooklyn Cyclones to a 30-14 record this season.
Gary Carter has not publicly lobbied for the job, so Jerry Manuel apparently is not on life support yet.
Still, as the New York Mets slipped to .500 on Monday night and dropped 7½ games behind the division-leading Atlanta Braves, it seems to be nearing a foregone conclusion that the Mets will have a new manager in 2011. And every day it appears more likely Wally Backman will be installed as Manuel's successor.
Backman has the requisite résumé, but think along with the Mets' priorities and you will easily understand why he jumps to the head of the list of contenders:
- He will work for peanuts -- quite literally, in fact, having managed the independent South Georgia Peanuts during his exile from major league-affiliated organizations.
- The Mets will have to sell something to their fans this winter. And if they're not going to throw dollars around during the offseason, which may very well be the case, putting a fiery '86 Met out front is at least a vehicle for the organization to try to peddle tickets for 2011.
Backman, of course, was in line to become Diamondbacks manager for the 2005 season when details of past off-the-field transgressions surfaced and Arizona officials jettisoned him four days after his introductory press conference in November '04.
Not until this season, when a phone call to Mets chief operating officer Jeff Wilpon paved the way for Backman's return to affiliated baseball as Brooklyn Cyclones manager, did Backman receive another paycheck from a major league organization.
The Mets would appear unlikely to be willing to pay the type of bucks it would take to land Bobby Valentine or, say, Joe Torre should the ex-Yankee skipper want to return to New York. On the other hand, you would imagine Backman would willingly sign up as the majors' lowest-paid manager just for the opportunity.
At the time Backman was introduced as Cyclones manager back on Nov. 17, Mets executive VP Dave Howard willingly acknowledged a "significant clause" was placed in Backman's contract allowing for his termination if he had any noteworthy slip-up.
"Part of the discussion was, 'Hey, Wally, we're giving you a shot, but you have to understand that if there's any hiccup along the way, we would have the right to terminate the relationship,'" Howard acknowledged at the press conference. "He understood that. He was more than happy with that because he's confident there are not going to be any issues."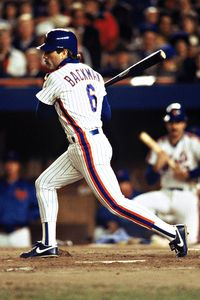 T.G. Higgins/Getty Images
Backman during Game 7 of the 1986 World Series.
Backman needed to reestablish his stability to be under consideration for the Mets' major league managing gig. That's why Manuel lasting as long as he has done, rather than being jettisoned at midseason, has worked in Backman's favor. Otherwise, an interim manager such as Bob Melvin would have been the logical selection and had first crack at retaining the job this offseason.
Melvin, coincidentally, landed the Diamondbacks job as the fallback candidate after Arizona officials walked away from Backman.
Despite his fiery nature, Backman likely cannot make a material difference in the standings unless he also intends to suit up and replace Luis Castillo at second base, so there's a limit to what his appointment would mean.
Yet you have to wonder what the Mets otherwise could sell to fans this offseason, when season-ticket sales and renewals likely are to plummet. Even if the Mets chose to eat what will be $12 million remaining on Oliver Perez's contract heading into 2011 -- and maybe even tossed aside Castillo as well -- that would be well-received but hardly the basis of a marketing campaign. ("We believe in admitting our mistakes …")
While the Mets could pursue free agents and offer them low base salaries in Year 1 to buy the requisite time until existing contracts expire, you get the sense the dollars won't be flowing freely this offseason. The organization doesn't get any real salary relief until after next season, when Carlos Beltran, Francisco Rodriguez, Castillo and Perez's contracts come off the books. Those four deals alone will bring nearly $50 million in salary relief.
It should be noted that Backman is qualified.
He had the credentials to be tabbed ever so briefly as Diamondbacks skipper. And as a minor league manager from 2001-04 in the Chicago White Sox and Arizona systems, Backman's teams had a combined .524 winning percentage. He has earned praise from current major leaguers Dan Uggla and Jeremy Reed for how he skippered their minor league teams.
This year, Brooklyn under Backman is the runaway leader in the McNamara Division with a 30-14 record -- although it's worth noting the Mets annually stack their New York-Penn League affiliate with older talent in order to maximize victories and attendance since the Wilpons own the Cyclones and benefit financially from their success.
If it does materialize that Backman emerges as Mets manager, it would mark another interesting twist in the Backman-Manuel shared history. With Manuel's White Sox jockeying with ex-Met teammate Ron Gardenhire's Twins in the AL Central race in 2003, a news report surfaced that Backman -- who was managing Chicago's Double-A affiliate in Birmingham at the time -- wished Gardenhire luck in beating Manuel. The report quoted Backman as allegedly stating: "Kick [the White Sox's behind] so I can get Manuel's job."
Backman vehemently denied ever saying anything like that. Although there was no specific evidence to point fingers, Backman suspected a high-level White Sox official leaked the story to discredit him. The motivation, he believed, was to pump up another candidate to succeed Manuel (who was ousted after that '03 season).
That other managerial candidate?
Razor Shines.
Adam Rubin's 'In-depth' look at the Mets will appear selected Tuesdays during the season