R.A. Dickey did not factor into the decision in the Mets' 3-2 win against the Atlanta Braves on Tuesday. Still, the knuckleballer overcame wet conditions that hindered his signature pitch and limited the opponent to three runs or fewer for the seventh straight start.
Dickey lost a career-high 18-inning scoreless streak when the Mets were unable to turn a 4-6-3 double play on Melky Cabrera with runners on the corners and one out in the second inning. But Dickey ultimately limited the Braves to two runs on five hits while walking four and striking out two in six innings. He has a 2.36 ERA this season.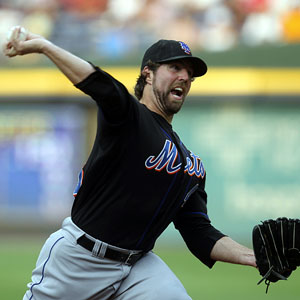 AP Photo/John Bazemore
R.A. Dickey had trouble throwing his knuckleball in the rain, but still limited the Braves to two runs in six innings.
Dickey left the bases loaded in the fifth when he struck out Eric Hinske. In the sixth, the Mets fell behind, 2-1, when Jeff Francoeur failed to cut off Cabrera's shot to right-center and Rick Ankiel scored from first base. But Dickey held the deficit at one run by retiring pinch hitter Matt Diaz on a pop-out to Luis Castillo and getting Omar Infante on a comebacker to end that frame and his outing.
"It's nice because Diaz came off the bench, and he hadn't had one at-bat," Dickey said. "So I have the advantage immediately I feel like in that situation. I wasn't necessarily throwing a great [knuckleball], but I was throwing a good-enough one and it jammed him. We got out of it. And then Infante, who's a great hitter, that was one of the knuckleballs that was really good tonight. He hit it off the end of the bat right back to me and we got out of the inning."
On a rainy night, Dickey had immense trouble gripping his knuckleball. He admitted being inventive to ensure he had as many dry balls as possible, including summoning the grounds crew at one point while it rained to fix the mound and buy time for the storm to pass.
"Oh man, it was just straight guerrilla warfare tonight," Dickey said. "I used every trick I knew out there. I was calling them out there to fix the mound, switching balls every other pitch. I did all I could do. I threw a lot of terrible knuckleballs tonight, but I threw enough good ones in the right situations to get it done. That was nice. I didn't go away from it. In the inning where I walked a couple of guys, I wasn't going to go away from it. I was going to live and die by it."
It was 91 degrees and unbearably humid at the first pitch, reminding Dickey of the weather in San Juan when he pitched there on June 28 and allowed five runs in five innings against the Florida Marlins.
"I felt like I threw three games tonight," Dickey said. "It was that humid."
As for the emotional win with Francoeur's decisive homer in the ninth, Dickey added: "We've kind of been in a rut where there hasn't been a ton of energy. There's been enough. But there hadn't been what was once there. And we're trying to find a way to get it back. This could prove to be a stepping stone in getting it back, because that's what we need. We need some fire going on in there."