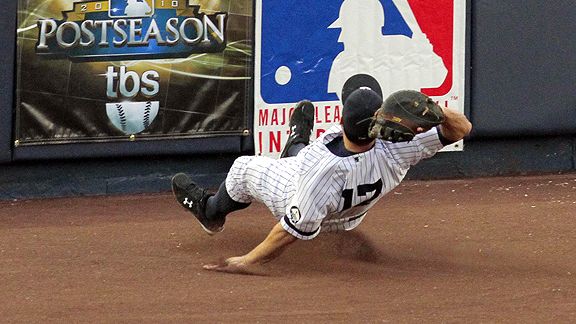 Chris Faytok/THE STAR-LEDGER/US Presswire
Lance Berkman slips and falls while chasing a foul ball in the fourth inning of Game 5.
VIDEO: Berkman on the Yankees' win
Lance Berkman lost his footing on the warning track while pursuing Ian Kinsler's foul pop in the fourth inning of Game 5 on Wednesday. Asked after the Yankees' 7-2 win over the Texas Rangers what hurt most as he was on the ground, Berkman deadpanned: "My pride."
"Nah," Berkman continued, turning more analytical. "I don't know. I thought I had hit my head. When I saw the replay, I didn't hit it, but it felt just like I did. It felt like I just had gotten lit up in football and just kind of a little out of it. It didn't feel great. Of course, that inning ended quickly. But that half-inning, thank goodness I didn't have to hit. It started to feel better after that.
"When I initially thought I hit my head, of course you always worry about getting a concussion or something like that. But that's not the case. Other than that, it's just a spill."
Berkman, who started Game 5 as a replacement for the injured Mark Teixeira at first base, went 0-for-2. But he walked and scored in the Yankees' three-run second inning. He also contributed a sacrifice fly in the fifth, the inning after the spill.
His teammates were particularly concerned about Berkman's well-being, especially after losing Teixeira for the postsesason the previous night with a Grade II hamstring strain.
"When I saw it happened, I'm thinking we might have to call Juan Miranda," Brett Gardner said. "After what happened to Tex last night, that's the last thing you want to see happen to anyone here."
Berkman knew right after Teixeira crumpled approaching first base Tuesday that he had inherited the first-base role.
"As soon as he got hurt, I knew I was going to be in there probably for the duration of these playoffs at first base," Berkman said. "I think that's one of the reasons they traded for me is because I can play first base. Initially, it was to give Mark a couple of days off maybe in the regular season. But clearly if something happened like that, I could step in there and play it."
Berkman said he had no rust. A regular first baseman with the Houston Astros, he had appeared in only eight regular-season games at the position with the Yankees after arriving at the trading deadline.
"The game happens quick on the corners, so you're always a little bit concerned having not been out there that you're going to lose a little bit of your rhythm," he said. "But I felt pretty good."
Berkman was given smelling salts upon getting to the dugout after his spill. He said his entire backside was uncomfortable, so he spent most of the time standing when the Yankees were batting the remainder of the game.
"I sat down between one of the innings, and that was a mistake," he said. "The rest of the game, I pretty much stood up and tried to move around as much as I could to keep from tightening up."
As for the flight to Texas, he was looking forward to it more than the alternative: the end of the Yankees' season. Still, Berkman said about the air travel: "That's going to be interesting. They may have to carry me off the plane in Texas."
He ended up changing his cleats after the spill.
"I over-ran that ball just a hair and was trying to stop to catch it," he said. "And my feet just came out from under me. I was looking up at the ball, and the next thing I know I was flat on my back looking up at the sky. It wasn't good. ... I had plastic spikes, and then I put my metal spikes on. I had been wearing plastics the whole year and hadn't had any trouble, but I had never gone after a foul ball on the warning track here, either. It's a pretty slippery surface. I think it's just the way it always is."
As for the Yankees' three-run second-inning, in which he and Jorge Posada scored on Curtis Granderson's single to right field, thanks to a throwing error by ex-Met Jeff Francoeur to third base, Berkman said: "That's what we call a 'snowball fight' in the industry. It can deteriorate on you in a hurry. I've been on the other end of that. You're trying to get an out desperately, and the ball's flying around. You end up making a throw ill-advised. When you're rushing and when things are happening quick, you can make mistakes. And that's basically what happened.
"I was running as hard as I could," Berkman continued, referring to his attempt to score from second base on the play. "I didn't get a great jump on the ball as far as right off the bat. It was kind of a looping liner. Initially I was thinking to myself, 'Is the outfielder going to catch it?' I pretty quickly figured out he wasn't going to. So because of that I thought [the third-base coach] might hold me. There's only one out. You don't want to run into an out. And Jeff has a great arm. He has one of the best arms in the game. ... It played out like it did."