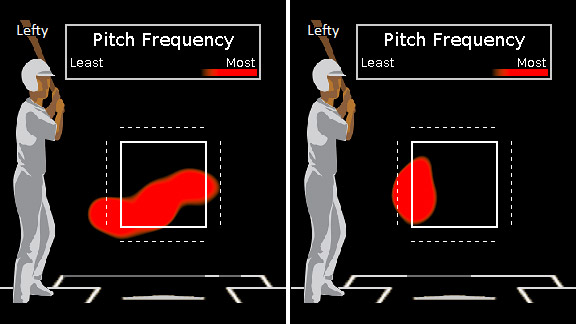 The image on the left shows where James Shields primarily located his breaking pitches against lefties in 2010. The image on the right shows the location of those pitches in 2011.
The James Shields that the Yankees will see when they face the Rays on Tuesday night at Tropicana Field is a much different one than they've faced in the past.
Shields, 3-8 with a 4.91 ERA for his career against the Yankees, has been among the very best pitchers in baseball in 2011. He allowed three runs in 19 innings against the Yankees at home last season and has been nearly duplicating that effort against everyone in 2011.
It will be a good test of skills for the pitcher known as "Big Game James" to see if he can match what he's done in his last six starts-- allow two earned runs or fewer while pitching seven innings or more. Among his challenges, Curtis Granderson, who incidentally is an .097 career hitter vs Shields.
The biggest difference in the Shields is the unpredictable nature of his pitch selection.
Stats & Information's Dan Braunstein, sifted through our pitch type data a few weeks ago and published his findings on the Stats & Info blog.
The key: Shields went from throwing a first-pitch fastball two-thirds of the time last season to throwing it half the time in 2011.
The other half of his pitches are mostly breaking balls, but he throws his changeup just often enough (about one in nine pitches to both righties and lefties) to keep hitters guessing.
James Shields
On First Pitch
And once hitters are thrown off by this, Shields has them right where he wants them.
The numbers still hold up, a few weeks after Braunstein's blog post.
Where does the first pitch unpredictability make such a big difference? As the at-bat gets longer.
When Shields gets two strikes on a hitter, he's much more effective than he was last season.
With a two-strike count, Shields mixes pitches the same way he did in 2010 … for every 10 pitches he throws with a two-strike count, he's throwing three fastballs, four changeups and two to three breaking balls.
Last season, Shields allowed 13 two-strike home runs, and about 25 percent of those he got in a two-strike count faced reached base.
This season, he's yet to allow a homer with two strikes, and his rate of allowing baserunners has dropped to 15 percent. That sort of performance is league-leader caliber.
The other thing Shields has changed from 2010 is how he locates his breaking pitches to left-handed hitters.
Notable Yankees
Career vs Shields
"James simplifyed his mechanics over the winter to allow himself to be more directional toward home plate, and this has allowed him to drive the ball downhill," Rays TV analyst Brian Anderson told us Monday. "(That) has enhanced the downward movement (sink) on both his fastball and change-up and has improved the break and consistency of his curveball."
The images at the top of this article are heat maps, garnered from our pitch performance data. The red shading indicates the areas of the most frequent location.
The image on the left shows where Shields most frequently located his curveballs to lefties in 2010. The image on the right shows where he's been throwing that pitch in 2011. You can see the change in location has shifted dramatically to where he's primarily locating to the inside corner.
That has worked. Shields is on pace to greatly increase his strikeout total with his breaking pitches from last season (26 in 2010, on pace for 40 in 2011) and the opponents batting average when they put the ball in play has dropped from .361 to .300 so far in 2011.
But again, the unpredictability is a big part of the story. Shields has struck out 12 lefties with his breaking pitches this season. But he doesn't get those with pitches on the inside corner. Seven of the 12 have come on pitches to the outside corner.
It's just another aspect of what makes Shields such a challenge for the Yankees tonight.