When former general manager Tom Heckert left the Eagles two weeks ago to take the same job with the Cleveland Browns, it was assumed that 34-year-old Howie Roseman would replace him. And this morning, the Eagles finally made it official. Roseman, who has been with the organization for 11 years, will meet with reporters at the club's practice facility today at 1:30 p.m. ET.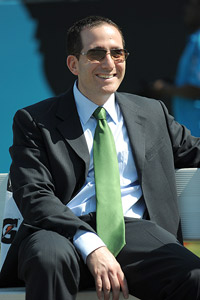 Drew Hallowell/Getty Images
Howie Roseman was officially announced as the new Eagles general manager Friday.
The former lawyer will be an interesting contrast to Heckert, who grew up around the game. Roseman signed on with the organization in 2000 as salary cap/staff counsel, according to a press release from the Eagles. He became director of football administration in 2003 and was promoted to vice president of football administration in 2006. In that role, Roseman evaluated players for the draft and also represented the team to the league on contract, salary cap and player personnel issues.
I've had a couple of agents tell me that Roseman is a shrewd and creative negotiator who will be a huge success in the league. But I've also talked to a couple of longtime NFC scouts who sort of chuckled when they heard the news of Roseman's promotion. They love it when a guy with a non-football background takes over a scouting department.
Of course, Andy Reid will continue to have final say on player personnel decisions. He's part of a dying breed of head coaches in the league who possess that much power, although Mike Shanahan appears to have a similar arrangement with the Redskins. The Eagles said that Roseman and Reid will work hand in hand while evaluating players.
Brian Seltzer, who does an excellent job covering the team for ESPN 950 in Philly, provided some good background information on the Heckert-Roseman relationship in a recent blog post: "Over the past three years, the landscape of the Eagles' personnel department has changed," wrote Seltzer. "In the 2008 off-season, the Birds fired then-vice president of player personnel Jason Licht, a close colleague of Heckert. Heckert gave Licht his first personnel gig back in 1995, when Heckert, serving as a Miami Dolphins scout, hired Licht to his staff. In 2003, Heckert managed to lure Licht away from the New England Patriots to the Eagles.
"Licht's termination was linked, in part, to a falling out with Howie Roseman, the Birds' vice president of football administration at the time. With Licht gone, Roseman would wind up replacing him, and has acted as Heckert's right hand man the last two years. While Heckert and Roseman's relationship is functional and productive (consider the talent procured in the past two drafts), the present dynamic is one that was forced upon Heckert. He wasn't the one who made the call to sever ties with Licht, his friend, or promote Roseman."
I don't think we'll see any huge changes in the Eagles' personnel department, but the dynamic between Reid and Roseman certainly bears watching.