MIAMI -- Jason Witten couldn't quite handle Tony Romo's pass in the end zone during the NFC's 41-34 loss in the Pro Bowl.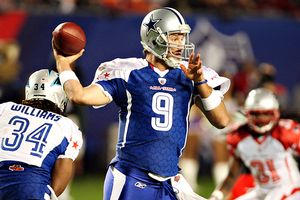 Matthew Emmons/US Presswire
Cowboys quarterback Tony Romo says he's ready to take the next step.Oh, well. No big deal.
This experience was all about having fun, not worrying about anything that happened on the field.
"I love hanging out with the coaches and players, and getting a chance to enjoy some good times together," Romo said.
Romo completed 13 of 18 passes for 154 yards, with one interception. Teammate Miles Austin caught six passes for 49 yards.
The Cowboys had nine players in the Pro Bowl, plus their coaching staff. They'll use the coming weeks to recharge and try to build on a good but ultimately unsatisfying season.
"We took a step this year and we have to keep trying to get better every day," Romo said. "The team understands what it means to take another step, and we'll do that this offseason."
That was the focus for Austin as well.
"I've got my family here with me -- it's obviously a very important thing to me," he said. "That being said, I've got a lot more work to do to get ready for next year. So, I can enjoy this now, but the goal is really to be playing in the Super Bowl."