If the Eagles are able to trade Donovan McNabb, what does the Kevin Kolb era look like?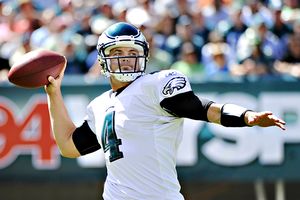 Howard Smith/US Presswire
Eagles quarterback Kevin Kolb might be better suited for the West Coast offense than Donovan McNabb.Everyone I talk to in the Eagles' organization suggests that former University of Houston star Kevin Kolb is ready for prime time. The Eagles former general manager Tom Heckert, who had a big say in drafting Kolb in the second round of the '07 draft, told me last week he thinks Kolb is absolutely ready to succeed at this level. That's why he thinks it would be nearly impossible for a team to land Kolb in a trade.
Kolb is already popular with his teammates. You may have noticed there hasn't been a huge outcry from the locker room to keep McNabb. I know that fullback Leonard Weaver recently voiced his support during a radio interview, but that's about it. There's a sense in the organization it's time for young stars such as DeSean Jackson, Jeremy Maclin, LeSean McCoy and Brent Celek to start playing with the quarterback who's expected to hang around for the next six or seven seasons.
From the scouts I talk to across the league, Kolb's actually better suited for the West Coast offense than McNabb. He's been very accurate in the preseason and in his two regular-season starts. One NFC East scout told me Monday he thought a second-round pick was a little "rich" for Kolb in '07. The thought at that time was that Kolb may have been a "system" quarterback under coach Art Briles at Houston and his huge passing numbers wouldn't translate to the NFL game. But after a year of work in Reid's system, he convinced the coach he was indeed the real deal.
Kolb doesn't have McNabb's strength or mobility, but he does appear to have a more accurate arm. In an offense that's built on timing and intermediate routes, that's no small thing. Kolb's also been praised for an internal clock that allows him to get the ball away quickly. There are actually people in the organization who think Kolb gives the Eagles a better chance to win immediately.
I have too much respect for McNabb to agree with that statement, but I do think Kolb will help the Eagles win a lot of games in the coming years. His coaches and teammates love how calm he is in the huddle. The Stephenville, Texas, native rarely gets rattled and that's a good trait to have if you're going to play in Philly.
I think Kolb's ready to take over this team.