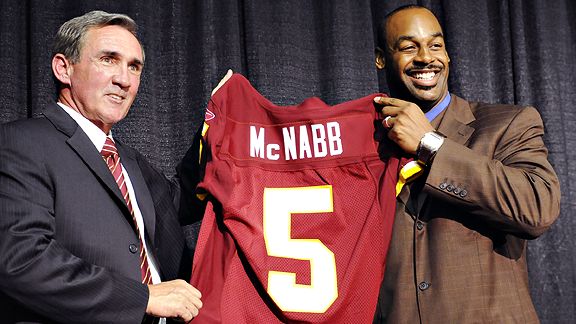 Mitchell Layton/Getty Image
Donovan McNabb was officially introduced as a member of the Redskins in a Tuesday press conference.
Donovan McNabb made it pretty clear in his introductory news conference Tuesday he has an enormous chip on his shoulder.
That's a great sign for Redskins fans.
Washington landed an elite-level quarterback who spent the past 11 seasons making the Eagles one of the most successful organizations in the league. Watching him hold his new No. 5 burgundy and gold jersey with coach Mike Shanahan was the first of many surreal moments this blockbuster trade will produce.
McNabb talked about how John Elway was 34 when Shanahan became his head coach in Denver. The two went on to win two Super Bowls together. The 33-year-old McNabb smiled as he talked about the similarities. Fortunately, reporters were gracious enough not to point out that Elway had Terrell Davis at running back and a stable offensive line. But let's not deal with those harsh realities in this entry.
McNabb tried to keep the focus on Washington, but he couldn't help poking the Eagles with a sharp stick a couple times. Twice he said that he would treat the Eagles just like the Cowboys or Giants, but we all know better.
"They're rebuilding," McNabb said of the Eagles, knowing that word drives them nuts. "They're going young. I never knew 33 years was old, but I guess I'm too old."
McNabb said he's in good company when it comes to former Eagles stars who've finished their careers elsewhere. And it was no accident he brought up the "ultimate Eagle," safety Brian Dawkins, as an example. Without Dawkins, who signed with the Broncos in free agency, the Eagles were exposed at safety in '09.
But in a lot of ways, McNabb seemed grateful Tuesday all the offseason speculation had ended, saying, "I'm just so happy that it's over."
Dressed in a three-piece suit and standing next to Shanahan, McNabb seemed completely comfortable talking about himself as a Redskin. He spent Tuesday morning working out with his new teammates and he seems particularly excited about providing leadership to a new group of players. I think McNabb offended some of his young teammates when he called them out late in the '09 season. And that's probably why you didn't hear an outcry of support from the Eagles locker room once they began shopping McNabb.
Make no mistake. McNabb desperately wanted to finish his career in Philly, and he confirmed that during Tuesday's news conference. But now he's been given the rare opportunity to prove the Eagles made a poor decision by playing against them twice a year. McNabb said he talked to his replacement in Philly, Kevin Kolb, last night by phone. He obviously wants to beat the Eagles, but he has no ill will toward Kolb.
"I'm excited for him," McNabb said. "Andy's a great coach and great guy. He's shown the trust and confidence in [Kolb]."
Asked to talk about Mike Shanahan's offense, McNabb delivered the zinger of the day. Apparently he believes the Redskins will make more of a commitment to the run game than the Eagles.
"A lot of you people that came up from Philly don't know much about that run game," said McNabb, drawing laughs from the audience.
Shanahan yielded to McNabb for the most part, but he did point out that Elway was in his 13th season when he took over the Broncos and that Steve Young was in his 11th year when he worked with him in San Francisco. He said the starting quarterback "sets the tempo for the rest of the team" and he obviously believes that McNabb's experience is a huge plus.
Given the opportunity to address Eagles fans directly during the news conference, McNabb said, "Thank you for giving me the opportunity to come and display my talents...The most important thing is that every time the Eagles stepped on the field, we felt like we could win that game."
McNabb basically sounded like the same guy we've followed for the past 11 years. He was engaging at times and he also sprinkled in some defiant moments. If he walked away from the game today, he'd leave an impressive legacy. But he acknowledged there's something very important missing, and he's hoping a change of scenery will help him accomplish that goal.
"I'm starting a new chapter in the book of Donovan," he said with a smile.