IRVING, Texas -- Wade Phillips is hesitant to call this Cowboys defense the best he's ever coached, but it's hard to argue otherwise. Heading into Sunday's divisional-round playoff game against the Vikings, the Cowboys have become virtually impossible to score against.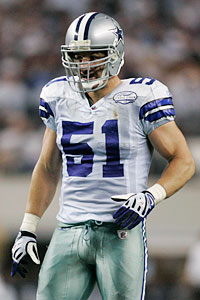 Tim Heitman/US Presswire
Linebacker Keith Brooking and the rest of the Dallas defense hasn't allowed an 100-yard rusher this season.
The only meaningful touchdown the Eagles scored in two consecutive games was on a Michael Vick pass on which Dallas cornerback Mike Jenkins fell down while attempting to cover Jeremy Maclin. Quarterback Tony Romo and the offense have also put up solid numbers, but this team's identity comes from a front seven that suffocates its opponents.
You would think the prospect of facing All-Pro running back Adrian Peterson would cause some anxious moments, but there was no hint of reverence when Cowboys defenders discussed his work Monday. The Cowboys haven't allowed a 100-yard game by an opposing running back this season, and they're not planning for that to change Sunday in Minneapolis.
"Part of what we try to do is stop whoever they have in there," Phillips said Monday. "Everybody has to have both eyes on this running back at all times. [Peterson] has already done everything you can do [in this league] and he's still doing more. You have to gang tackle a guy like that."
Cowboys outside linebacker Anthony Spencer, who has become a pass-rushing force down the stretch, said it was important to trust everyone around you when facing Peterson. He said that if a single player tries to do too much, Peterson will make him pay.
The Cowboys ranked fourth in the league against the rush, holding teams to 90.5 yards per game. And they held the Eagles to 56 yards rushing in Sunday's 34-14 win. There's something that happened to this entire Cowboys team when they walked into the Superdome in December and beat the Saints, 24-17. They shut down Drew Brees and the Saints' passing game for the first three quarters and the win has given everyone in the locker room a tremendous sense of confidence.
Former first-round pick Bobby Carpenter has embraced his role as a nickel linebacker and he had two fumble recoveries in Sunday's win over the Eagles. Obviously, All-Pro linebacker DeMarcus Ware is a nightmare for offensive coordinators, but I think the addition of inside linebacker Keith Brooking might have put this defense over the top.
Phillips had coached Brooking in Atlanta and he knew that he was a tremendous leader. But he didn't know for sure that Brooking would have such an immediate impact. He's become the emotional leader for the Cowboys and he's the guy who breaks the team huddle before games. Carpenter told me last week that watching Brooking in the offseason and during practices has helped shape the way he now approaches the game.
"I knew he was going to take the bull by the horns here," said Phillips of Brooking. "In the offseason program, he tries to win every sprint. He tries to be first at every single thing that he does."
Brooking is a tackling machine and even at age 33, he's still capable of covering running backs in space. He and Bradie James work really well together and they do a great job at disguising blitzes. It was James who broke through and sacked Donovan McNabb early in Saturday's game.
The Cowboys only allowed 250 points this season, which is the second-lowest total in the league. You can bet that Phillips has a healthy respect for Vikings quarterback Brett Favre, but right now he's willing to bet on his defense. And judging by the past two months, that's a pretty safe bet.