I've heard so many versions of the story where the Cowboys had a near-miss in the first round of the 2002 draft that I decided to go back for clarification Tuesday. Former assistant director of pro personnel Bryan Broaddus still marvels at how owner Jerry Jones was on the phone with Vikings vice president for player personnel Frank Gilliam, Chiefs general manager Carl Peterson and Jaguars coach Tom Coughlin at the same time.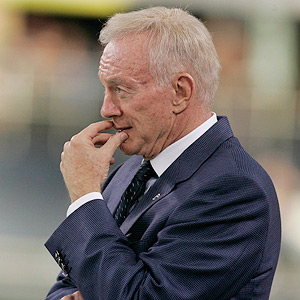 Tim Heitman-US PRESSWIRE
Cowboys owner Jerry Jones was cool and collected despite almost missing a draft pick in 2002.Jones, who had the No. 6 overall pick, was trying to determine who the Vikings were planning to take at No. 7 before swapping picks with the Kansas City Chiefs (No. 8). Jones found out the Vikings were not going to take Oklahoma safety Roy Williams (they picked Bryant McKinnie), so he traded down to No. 8 and selected Williams. We all know that Williams eventually flamed out in Dallas, but he was considered an excellent choice at the time. The Chiefs selected defensive tackle Ryan Sims No. 6 overall and the Jaguars took Tennessee defensive tackle John Henderson at No. 9.
"It was pretty impressive to see how calm Jerry was while working all those phones," Broaddus told me Tuesday. "You knew right then how good a negotiator he was."
But the Cowboys almost forgot to turn in their trade, which nearly allowed the Vikings to nab the sixth pick. A talented young scout from SMU named Chris Hall strolled into the draft room and asked whether the Cowboys had reported the trade to the league office. And that's when Stephen Jones, Jerry's son, took matters into his own hands.
"Jerry went to sleep at the wheel," former Cowboys scouting director Larry Lacewell told me a couple years ago. "And all the sudden someone shouts that we only have 10 seconds left."
According to Broaddus and at least two other eyewitnesses, Stephen dived across the table to grab the phone and inform the league about the trade. Jerry reportedly sat there with his arms crossed watching the whole thing play out. He'd likely been in tougher spots than this in the oil business.
"That's as close as I ever saw us come to losing one," said Lacewell, who remains close to the Jones family.
With the third-round pick the Cowboys acquired from the Chiefs in that trade, they selected Ohio State cornerback Derek Ross, who didn't pan out. But looking back, the Cowboys are just fortunate they submitted the trade on time. Vikings officials were rushing toward the table to make that No. 6 pick, but Stephen Jones' diving play saved the day.