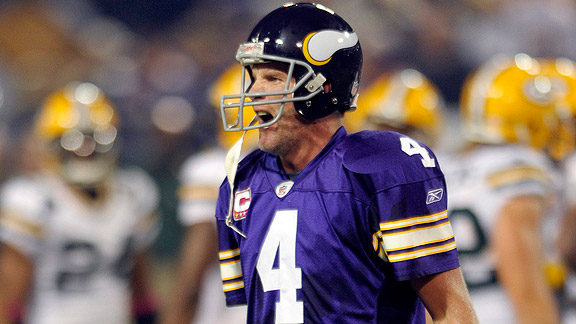 AP Photo/Tom Olmscheid
It seems as if Brett Favre has every reason to return to the Vikings in the fall, but will he?
It's become the most common greeting in Minnesota.
What do you think Favre will do?
If I had a nickel for every time someone has asked that question recently, I would have ... well, a really big stack of nickels. The answer ultimately will have profound impact on the Vikings, the competitiveness of the NFC North and perhaps the quarterback position for other teams around the NFL.
What will Favre do? The topic even came up while I covered one of New Orleans' interview sessions during the week leading up to Super Bowl XLIV. At one point, I looked up to see Saints safety Darren Sharper, Favre's teammate in Green Bay and adversary when he moved to Minnesota.
"What's '4' going to do?" Sharper asked. "Is he playing?"
I told Sharper the same thing I've told anyone else who's asked. I gave up trying to predict Brett Favre a long time ago. But if logic and rational thinking are involved here, it's difficult to come up with a reason why Favre wouldn't return to the Vikings in 2010.
Sharper shrugged his shoulders.
"That's what I think," he said. "It's too perfect for him not to."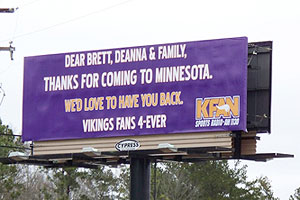 Courtesy of KFAN.com
Some Vikings fans are doing everything they can to convince Favre to return -- including purchasing billboards near his Mississippi home.
So goes the prevailing guess these days on Favre's immediate future, and I emphasize it's based mostly on connecting the dots rather than insider information. The Vikings will be limited in an effort to replace him, the result of new NFL rules associated with an uncapped season, only increases the likelihood they will play ball with Favre this offseason. They'll allow him to make a decision on his terms rather than follow the type of early-spring timetable set by the Packers two years ago and the New York Jets last season.
Let me emphasize that I don't even know if Favre knows what he will do in 2010. History shows that even if he thinks he knows, he is prone to, uh, a change of heart. This is all guesswork. But when you add up the facts of Favre's 2009 season with the Vikings -- the success of his late arrival, his relative health at the end of the season and the team Minnesota will return in 2010 -- it's hard to envision a scenario where Favre will retire (and mean it) this offseason. Here's where I'm coming from:
It's hardly a secret that Favre would prefer to spend the offseason at his Mississippi home. Luckily for him, the Vikings set that precedent for him last spring and summer -- when he skipped the entire offseason program, minicamp, organized team activities and even training camp but still turned in one of the best seasons of his career. And this year, he would have far less catch-up work if he again joined the team in August.
The challenge would be the semantics of the arrangement. Unlike last year, Favre is under contract with the Vikings. If he again prefers an August arrival, would the Vikings simply excuse him? (Fines for missing minicamp and training camp are a club's option.) Or would he need to go through the charade of "retiring" in the spring and then "un-retiring" in the summer?
Whether you like it or not, Favre proved last season that he doesn't need training camp. In fact, speaking late in the year, he suggested his absence might have helped keep him fresh during the regular season. "I really feel like it almost helped me," he said.
It would be unusual in every way, but there is no evidence to suggest the Vikings should draw a line on this issue.
His bruised ankle and hamstring aside, Favre apparently emerged from the season relatively healthy. Most important, his surgically-repaired biceps tendon held up and he expressed no concerns about a partially torn rotator cuff. Anyone who watched the Vikings through the course of the season could see he was throwing with the same distance and velocity in January as he was in October.
I have no doubt Favre felt every day of 40 years old after the NFC Championship Game. But his body of work in 2009 should have allayed any internal concerns he had about making it through a 16-game season.
Take a look at the chart below.
Favre owns the NFL record for career passing yardage, touchdowns and completions. The biggest threat to those marks is Indianapolis' Peyton Manning. In order to overtake Favre, Manning would need to continue producing his career averages for five seasons after Favre's eventual retirement.
Don't underestimate Favre's pride in this regard. Manning turns 34 next month. So if Favre can produce decent numbers for one more season, Manning would need to average more than 4,000 yards, 26 touchdown passes and 370 completions between the ages of 35 and 40 in order to break Favre's records.
Even taking into account Manning's Favre-like durability, it would be a considerable challenge.
Another factor not to underestimate when it comes to Favre: The intense grass-roots campaign underway to coerce him into another season. At last check, three billboards had been erected along the route to Favre's home in Hattiesburg, Miss. An independent group of fans paid for one, while KFAN-1130 -- the Vikings' flagship radio station -- purchased the other two.
Most athletes want to be wanted, and I think it's fair to say Favre is at the top of that list.
Finally, Favre has the Vikings right where he wants them. As a charter member of the NFL's "Final Eight" group, the Vikings can't sign an unrestricted free agent unless they lose one first. And even if they do bid farewell to one of their free agents, the contracts must be comparable. In essence, their options for signing a suitable free agent replacement -- even if one existed -- are significantly limited.
They could draft a quarterback in April, but a team with Super Bowl aspirations doesn't typically start a rookie at the game's most important position. And if either Tarvaris Jackson or Sage Rosenfels had performed better in training camp last summer, the Vikings might never have signed Favre in the first place.
Their only semi-legitimate option, other than waiting out Favre's decision and abiding by whatever contingencies he applies, is pursuing a trade for Philadelphia's Donovan McNabb. I know there has been a lot of confusion about whether Final Eight teams can make a trade, but I can tell you without a shred of doubt they can -- whether or not they've lost a free agent or if they give up a player in the trade. The only stipulation is that the player must be under contract for the 2010 season, which McNabb is.
To this point, however, there is no indication the Eagles even want to trade him. And ESPN's Sal Palantonio reported recently the Vikings were not among the teams that have inquired about McNabb since the Eagles' season ended.
The Vikings could initiate talks at any time, especially if Favre communicates indecision or an outright plan to retire. But if you were the Vikings, would you hedge your bet on Favre changing his mind? Or would you give up a high draft choice for McNabb, a Pro Bowl-caliber quarterback in his own right who at 33 has a few more years than Favre left in him?
Perhaps. But if the Vikings wait long enough, it's difficult to imagine Favre not wanting to play in Minnesota. Eventually.