Who got the better end of the intra-division draft swap between Minnesota and Detroit?
There are several elements to consider here. First is the raw exchange. Minnesota gave Detroit two picks: No. 30 and No. 128 overall. The Lions sent the No. 34, the No. 100 and the No. 214.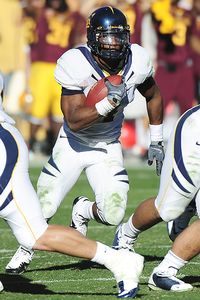 Nick Doan/Icon SMI
In their intra-division trade with the Vikings, the Lions were able to draft running back Jahvid Best.
Based on this trade value chart, which has its flaws, the exchange was almost identical: The Lions received 664 total points in exchange for 666.8 points.
Second: the players taken in those slots. Detroit used No. 30 on tailback Jahvid Best and No. 128 on offensive tackle Jason Fox. Minnesota drafted cornerback Chris Cook at No. 34, defensive end Everson Griffen at No. 100 and tight end Mickey Shuler at No. 214. I would suggest Detroit got the best player of that group. Best is most likely to make immediate and long-term impact.
The third element is the big picture. Both the Vikings and Lions entered the draft with needs at running back. Minnesota wanted someone to replace Chester Taylor as Adrian Peterson's backup and the primary third-down back. The Lions needed depth with starter Kevin Smith rehabilitating a serious knee injury. The Vikings addressed their need by trading their third-round pick to move up 11 spots in the second round and draft tailback Toby Gerhart.
So at the end of the draft, the Vikings used two draft picks to acquire Gerhart as their backup running back, just as the Lions gave up an additional pick and fourth-round positioning to get Best. Minnesota also added one player it probably wouldn't have otherwise drafted had the trade not occurred: Griffen, who was considered a high fourth-round value. The Lions, meanwhile, had one player they likely wouldn't have had the opportunity to draft in Best.
(For now, I'm considering Shuler's spot to be marginal given its location.)
Some of you have objected to this line of thinking, but I believe this is one of the ways you have to consider this trade. Would you rather have Gerhart and Griffen or Best alone?
The Vikings gained a bit more volume in this trade, but the Lions got the "Best" player. That leaves me siding with the Lions.