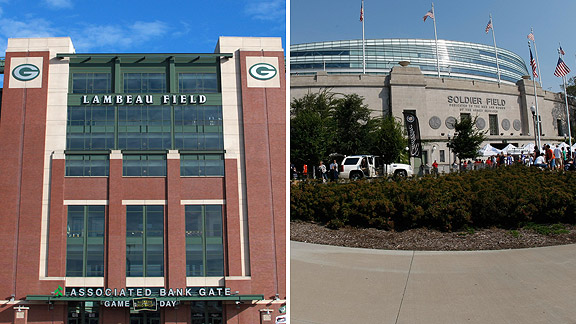 Getty Images
It is very unlikely either Green Bay or Chicago will ever host a Super Bowl, despite the 2014 game being held in cold-weather New Jersey.Questions and exaltations started flowing minutes after NFL owners awarded the 2014 Super Bowl to New York/New Jersey. Over on our rollicking Facebook page, Mel asked me to set an over/under for the chances of Green Bay getting a Super Bowl.
My reply: It's 0, and I'll take the under. Unfortunately.
Within a few hours, I came across a creative Facebook page. At last check, there were more than 200 members of "Bring a Super Bowl to Green Bay!"
I've never hidden the fact that I think Lambeau Field is a perfect setting for football. I assume that most of this Upper Midwest campaigning -- and I've heard it from Chicago Bears fans as well -- is tongue-in-check. But for those who are serious about it, let's get real.
Tuesday's announcement wasn't an instance of NFL owners developing a new tolerance for potentially bad-weather Super Bowls. It was all about a unique opportunity to reward money that's already been spent and then make a whole lot more.
The New York Giants and Jets have spent some $1.6 billion to build the stadium that will host the event. They have been unable to sell naming rights, a critical revenue producer for any new stadium. But you better believe that the prospect of association with a Super Bowl will make that opportunity much more interesting (and expensive) for the corporation that ultimately signs that deal.
That dynamic simply isn't relevant in Green Bay -- or Chicago, for that matter. And neither city, not even Chicago, can offer the kind of ancillary economic opportunities the NFL could realize through playing the game in such close proximity to the financial capital of the country.
This simply isn't about weather. If you hooked up most NFL people to a lie-detector test -- coaches, players and league administrators -- I think they would express the same sentiment that Packers quarterback Aaron Rodgers tweeted Tuesday: "Personally I'm a fan of warm weather super bowl venues. San Diego, Nola, Dallas, Phoenix, n Miami should just rotate."
I would be shocked if the league follows this decision by awarding a Super Bowl to another cold-weather location with an outdoor stadium. This is a calculated, one-time chance to host the nation's biggest sporting event in its largest and richest city. Hate to break it to you.