Posted by ESPN.com's Kevin Seifert
I know. The headaches were coming on. A few of you were getting nosebleeds. Maybe the shakes, too. But rest easy. We are here to feed your NFL draft addiction and soothe those side effects.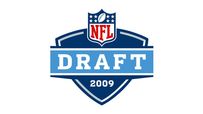 On Thursday, ESPN draft analysts Mel Kiper and Todd McShay released new, combined mock drafts based on their information through Wednesday's pro days. You'll need an Insider subscription to see their entire board, but I can bring you their choices for the NFC North teams at no charge to you. (Just don't tell anyone.)
And what the heck. I'll drop in a few pithy comments of my own as well.
No. 1
Kiper: Georgia quarterback Matthew Stafford
McShay: Stafford
From the peanut gallery: McShay has argued against Stafford, but as of now he believes the Lions are leaning in that direction. I agree with Don Banks (SI.com) and Pat Kirwan (NFL.com). Baylor offensive lineman Jason Smith is looking awfully tempting right now.
No. 20
Kiper: Tennessee defensive end Robert Ayers
McShay: Mississippi defensive tackle Peria Jerry
From the peanut gallery: All things equal, I like the idea of adding another interior defender. That's where the Lions were at their worst last season.
No. 9
Kiper: Texas defensive end/linebacker Brian Orakpo
McShay: Penn State defensive end Aaron Maybin
From the peanut gallery: Both Kiper and McShay passed on Alabama offensive lineman Andre Smith here. I think Smith would be worth a long, hard look.
No. 18
Kiper: Maryland receiver Darius Heyward-Bey
McShay: Heyward-Bey
From the peanut gallery: Hard to argue with the player or his position as it relates to the Bears. But take a look at Jerry Angelo's history in drafting receivers and get back to me.
No. 22
Kiper: North Carolina receiver Hakeem Nicks
McShay: Florida receiver Percy Harvin
From the peanut gallery: A receiver would definitely fall under the "best available player" category. Another option here, under the same guideline: USC linebacker Clay Matthews Jr.
In the video below, Kiper runs through his top 10 with Hannah Storm of SportsCenter: