Posted by ESPN.com's Kevin Seifert
You've been waiting for it, and now it's here: ESPN legend Mel Kiper Jr. is offering up a four-round mock draft for Insider subscribers. It's behind the pay wall of ESPN.com, but since I like you guys so much, I'll steal some the high-profile NFC North picks for Black and Blue readers (just keep 'em to yourselves).
(Remember, Chicago doesn't pick until No. 49 overall because of the Jay Cutler trade.)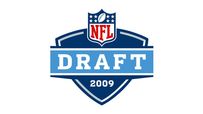 DETROIT LIONS
No. 1 overall: Georgia quarterback Matthew Stafford
No. 20 overall: Mississippi offensive lineman Michael Oher
My 1.5 cents: Kiper has been all about Stafford for months, so that's no surprise. But Oher at No. 20 would be a pretty nice catch. And, for all you Lions fans who want a linebacker at that spot, let's just say Mel has a certain Ohio State player who backs up the line landing in Detroit during the second round.
GREEN BAY PACKERS
No. 9 overall: Boston College defensive tackle B.J. Raji
My 1.5 cents: Nose tackle is one of the few defensive positions the Packers seem to have locked down with Ryan Pickett. But general manager Ted Thompson has always been about taking the best player. Raji is a force. Kiper has the Packers addressing the offensive line in Round 2. Packer types: I'd like to follow-up on Raji in a future post. Your thoughts?
MINNESOTA VIKINGS
No. 22 overall: Rutgers receiver Kenny Britt
My 1.5 cents: For whatever reason, everyone seems to think the Vikings will take a receiver with their first pick. In this scenario, Britt is the best available with Missouri's Jeremy Maclin and Maryland's Darrius Heyward-Bey off the board. Arizona offensive lineman Eben Britton is also available here.