Finally, after much behind-the-scenes maneuvering, I'm really excited to pass along a new feature we'll have on the blog this season: The weekly Inside Slant podcast.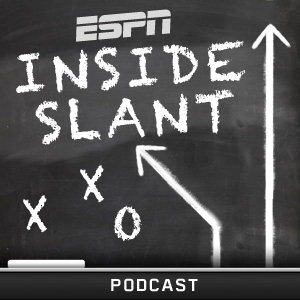 It's just what you wanted: A new way for me to blather incessantly about football. In this venue, I'll be joined by NFC West blogger Mike Sando -- a good friend, a great blogger and a deep font of information on the entire league.
Mike and I have been talking about doing a podcast for years, ever since we were told we had faces for radio. Our general idea is to mimic the blogs from a league-wide perspective, getting behind the rhetoric both inside our divisions and around the league. As Mike like to say, we want to "challenge the narrative" and oppose convention whenever appropriate, seeking a true(r) understanding for what the game is facing now and in the future.
What that means on a weekly basis is up for interpretation, although I doubt there will be any yelling or much arguing. Mostly, we want to exchange ideas and thoughts on some issues that might not be at the front of daily conversation. We'll take a slant inside the game, so to speak. (Ha!)
As we get used to things, we hope to incorporate other people -- newsmakers, bloggers, analysts and hopefully some listeners -- into the conversation. At the moment, however, I'm still learning how to put on a headset.
In our debut Wednesday

., we discussed the impact of concussions on player availability moving forward. We touched on expectations for San Francisco 49ers receiver Randy Moss and what we've learned about Joe Philbin's head-coaching style. And more! I expect next week's podcast to be better, and the same goes for the one after that. Small steps. This is new for all of us. We don't want to peak too early.
Special thanks to producer Drew Brooks for making this thing sound like a real production.
As always, I encourage your feedback through the mailbag or via Twitter at @espn_nfcnblog. (Mike is @espn_nfcwest). Let's gooooooooooooooo!