This week's Inside Slant podcast

is up and ready for your download. It includes discussion on the evolving ways NFL teams are using preseason games, a failed attempt by Jacksonville Jaguars running back Maurice Jones-Drew to shake down his team's new owner and the difference between being hurt and injured.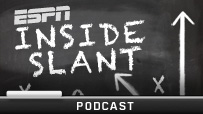 We also welcomed our first-ever guests to the podcast: Brothers John and Mike Trupiano will spend the 2012 season in an RV, traveling to all 32 NFL stadiums in 17 weeks to experience and document tailgating in each locale. Consider it a modern-day "On the Road." You can learn more about the trip on their web site, Tailgate32.com.
Of course, they'll be at both Chicago Bears-Green Bay Packers games. I'll try to track them down when I make my way to Lambeau Field in Week 2.