By one measure, the Green Bay Packers' game Sunday against the San Francisco 49ers ranks as one of the best Week 1 matchups in NFL history.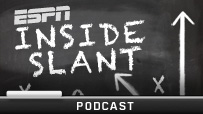 My math tells me that the Packers and 49ers combined for 28 regular-season victories last season. According to Elias Sports Bureau, there has only been one other occasion -- ever -- when season opener pitted teams with more combined victories in the previous year. That came in the 1999 season opener between the Minnesota Vikings (15 victories in 1998) and Atlanta Falcons (14).
A discussion of Sunday's matchup leads off this week's Inside Slant podcast

, hosted by NFC West blogger Mike Sando and me. We also discussed an original viewpoint on replacement officials from Packers quarterback Aaron Rodgers, plugged Mike's "MVP Watch" post and noted how symbolic it would be if neither Adrian Peterson nor Maurice Jones-Drew play significant roles in Sunday's matchup at the Metrodome.