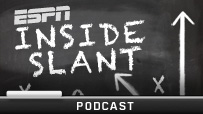 The Green Bay Packers are 0-1. So are the New Orleans Saints. So who has a better chance to land USC quarterback Matt Barkley at the top of the 2013 draft?
That question highlighted the discussion Mike Sando and I had about post-Week 1 overreaction in this week's edition of the Inside Slant podcast

. We also wondered how highly the San Francisco 49ers should be regarded after taking it to the Packers last Sunday at Lambeau Field.
We agreed to end it after my voice went into John Clayton mode. There's a teaser to stick around until the end. (Or just toggle to minute 37).