The Inside Slant podcast

this week leads off with a discussion about two of the NFL's most surprising teams. My inside information indicates one of them is the Minnesota Vikings.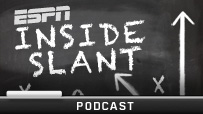 Mike Sando and I hashed through the way the Vikings have started 3-1. A big part of the explanation, at least to me, has been rookie place-kicker Blair Walsh. His 55-yard field goal in Week 1 prevented a loss in regulation to the Jacksonville Jaguars, and his consistently long kickoffs -- he leads the NFL by averaging just over 70 yards on each one -- have protected an otherwise shaky kickoff coverage group.
Mike dug up some analytics that show how an accurate and strong-legged figure can impact a team's competitiveness. I mostly sat and listened, which hopefully will inspire more of you to do the same.