Is veteran leadership real or an overused and convenient NFL cliché? That question was among the issues Mike Sando and I discussed in this week's Inside Slant podcast

.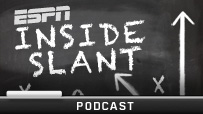 My interest primarily focused on the presumed hole the Green Bay Packers now that cornerback Charles Woodson will miss at least a month because of a fractured collarbone. As I told Mike, good players can make a real impact on a team off the field with well-timed messaging and motivation.
We all know Woodson's speech after the 2010 NFC Championship Game set the tone to the Packers' run to the Super Bowl title. Woodson also played a substantive role in the Packers overcoming their dismay after a controversial Week 3 loss at the Seattle Seahawks, as Rob Demovsky of the Green Bay Press-Gazette has pointed out.
Mike and I also discussed whether a "clutch gene" really exists for quarterbacks given the recent endgame problems of the New England Patriots' Tom Brady. Aaron Rodgers' record for fourth-quarter comebacks also came up. Hope it works for ya.