Once you get past our Halloween small talk, and Mike Sando's explanation for this photograph, the Inside Slant podcast

has an NFC North feel to it this week.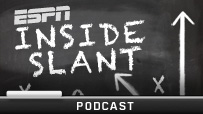 Mike and I expanded on Adrian Peterson's stunning return from a major knee injury, one that has set a new standard in ACL rehab: Peterson did it in one offseason. It's gotten to the point where we felt compelled to criticize Kansas City Chiefs coach Romeo Crennel for not using tailback Jamaal Charles -- another running back who has returned successfully from a 2011 torn ACL -- more often.
We also discussed the exemplary first half of Denver Broncos quarterback Peyton Manning in the context of aging quarterbacks who have sought to extend their careers after their original team moves on. Brett Favre's name came up, naturally.
The podcast reveals my Halloween costume for this evening, but contrary to what you might hear, it does not include Underoos in any way, shape or form.