"Bold decisions" was the theme of this week's Inside Slant podcast

. Mike Sando and I broke down a number of such instances -- and looming possibilities -- throughout the NFL. But we spent considerable time on two involving the Chicago Bears: The acquisition of receiver Brandon Marshall and upcoming contract negotiations with quarterback Jay Cutler.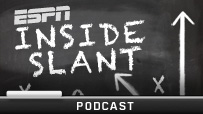 The Marshall trade has worked out so well -- 59 receptions, 797 yards, seven touchdowns in eight games -- that we almost forgot how bold it was. Bears general manager Phil Emery wasn't three months into the job when he acquired a difference-maker who was available only because he had a history of causing trouble. In many ways, the Bears trusted Cutler -- whose own leadership skills had been questioned -- to keep Marshall in line.
Meanwhile, Cutler has now won 12 of his past 13 starts and has a .750 winning percentage as the Bears' starter over the past three seasons. He is the Bears' best quarterback in at least a generation, a distinction that admittedly includes scant competition, and his contract will expire after the 2013 campaign.
So should the Bears start clearing salary-cap space and emptying the McCaskey family coffers for Cutler's next contract? Will they value him as something short of an elite quarterback when it comes time for negotiations? Or might they decide he is not the only quarterback who could steer a ship built on defense and special teams?
My sense is that given their history, the Bears have little choice but to give Cutler what it takes to keep him. But Mike offered a compelling argument, based on Total Quarterback Rating, that painted him as an average player based on league-wide performances over his tenure with the Bears.
Do take a listen. We'll revisit this analysis during the offseason, if not before.