A new way of thinking about concussions has taken over the NFL, and we saw it play out Sunday night at Soldier Field. Chicago Bears quarterback Jay Cutler took a brutal hit from Houston Texans linebacker Tim Dobbins, but he remained in the game for the rest of the first half before the Bears ruled him out at halftime after determining he had suffered from a concussion.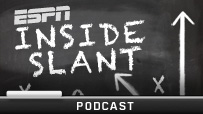 Would Cutler have continued playing under the NFL's less stringent guidelines of the past? That's one of the topics Mike Sando and I discussed in this week's edition of the Inside Slant podcast

. Cutler continued playing for seven more snaps over two possessions. Meanwhile, the San Francisco 49ers' Alex Smith played Sunday with blurred vision later attributed to a concussion.
Did the Bears' and 49ers' medical staffs make critical mistakes? Or did Cutler and Smith suffer the kind of mild concussions that players have routinely pushed through in the history of the sport? I'm going to guess the latter.
The conversation also covered the potential impact of another new way of thinking -- being more aggressive on fourth downs -- if Oregon coach Chip Kelly takes an NFL job in the next year or two.