In this week's Inside Slant podcast

, Mike Sando and I tried to de-mystify the concussion protocols we've heard so much about this season while awaiting the return of some high-profile NFC North players.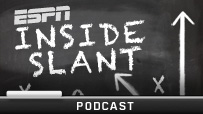 How exactly does a medical staff diagnose a concussion, which we've learned doesn't fit into a neat set of diagnostics? What is the process for returning, and why does it seem different from player to player?
After all, the Detroit Lions have been waiting more than a year for running back Jahvid Best to be cleared from his latest concussion. Lions cornerback Drayton Florence, meanwhile, missed only three snaps after a hit that caused a concussion to be diagnosed the following morning. Florence was then cleared to play three days later on Thanksgiving.
Mike did a bunch of reporting -- he is both the Woodward and Bernstein of our tandem -- and I got to sit back and play doctor. Make sure you stick around until I administered Mike part of the baseline test all players undergo to establish their pre-concussion mental state. Let's just say Mike's is pretty high-functioning.