As a longtime resident of the Pacific Northwest, NFC West colleague Mike Sando took some good-natured offense at Tuesday's post on the impact of the "Fail Mary" game. What followed was an Inside Slant podcast

that touched on how Seattle Seahawks fans feel about questioning the outcome of the game, especially given their history with officials, and my contention that what happened was different and more significant than a simple mistake.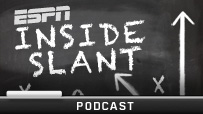 The NFL, in short, sabotaged itself and threatened the integrity of its own process for the sake of a better labor deal. I think it's fair to track how long and far the tentacles of that decision stretch, and at this point it's threatening to affect the playoff standings of at least three teams.
Our conversation also veered into some observations on Washington Redskins quarterback Robert Griffin III, whose accuracy on downfield passes this season has been scary good. Let's just say Griffin is on the opposite scale of Minnesota Vikings quarterback Christian Ponder, who as we noted earlier Wednesday, has completed only four passes this season that have traveled more than 20 yards past the line of scrimmage.