The Inside Slant podcast

this week was a tie-in to NFC West colleague Mike Sando's MVP Watch post, which features three quarterbacks ahead of Minnesota Vikings tailback Adrian Peterson in the rankings.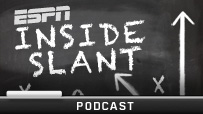 Thirty years after Washington Redskins place-kicker Mark Moseley won the award, the MVP has become a quarterback-dominated award. Mike and I discussed the argument for Peterson, which centers around historic production and the added value he has brought in terms of yards after contact (832 yards, almost 300 yards more than the next-highest ranked player).
In the scheme of things, though, it's hard to imagine a winner other than the Denver Broncos' Peyton Manning or the New England Patriots' Tom Brady. Statistically, a great season by a quarterback has more value than a great season by a running back.
I did want to pass along two other statistics I turned up in preparing for the podcast. Peterson has 79 carries against defenses with eight or more players in the box, according to ESPN Stats & Information. (The "box" is defined as two yards outside the tackle and five yards deep.) That's the second-highest total for a running back behind Frank Gore of the San Francisco 49ers, who has 82 such carries.
On those 79 carries, Peterson has gained 501 yards (6.3 yards per carry) and scored five touchdowns. That's pretty incredible production against a run-stopping defensive look.
ESPN Stats & Information also tracks "loaded boxes," when the defense has more players in run-stopping positions than the offense has available blockers. Among other things, it filters out instances when, say, a three-tight end alignment gives the offense a numbers advantage even when the defense has eight men in the box. Peterson has 36 carries in such situations, totaling 166 yards and a touchdown.