As predicted, NFC West blogger Mike Sando consumed a good portion of this week's Inside Slant podcast

advocating for Colin Kaepernick's immediate induction into the Pro Football Hall of Fame. Sigh.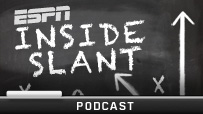 Seriously, our discussion centered around Kaepernick's role in Saturday night's divisional playoff game against the Green Bay Packers. In a best-case scenario, Mike acknowledged, Kaepernick will give the San Francisco 49ers a better chance than former starter Alex Smith to keep pace if the Packers' offense makes this game a shootout.
The Packers' defense could draw into question the judgment of 49ers coach Jim Harbaugh if it shuts down Kaepernick -- who admittedly has played well since ascending into the starting lineup -- and advances to the NFC Championship Game. The 49ers made this move knowing Kaepernick would need to perform like a postseason veteran in order to reach the Super Bowl.
The quarterback shift was one of the boldest moves of the NFL season, a topic we addressed in our Nov. 7 podcast and then circled back on Wednesday as well.