A whirlwind Wednesday has included the Chicago Bears' early-morning hiring of Marc Trestman as head coach, a special-edition Blogger Blitz video and, of course, the Inside Slant podcast

.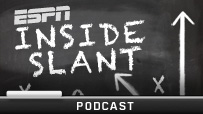 Mike Sando and I recorded minutes after the Philadelphia Eagles hired Chip Kelly as their coach. According to Mike's research, 11 of the NFL's last 15 head-coaching hires have come from offensive backgrounds. We discussed that topic at length in the podcast, noting not only the obvious -- that the league has trended toward offense -- but also that strategic innovation tends to come from offensive coaches.
(See: Wildcat, read option, pistol, KAO.)
That brought us to the other half of this week's podcast: How much of the latest innovation is here to stay? Mike and I both agreed that defenses will soon, if not immediately, catch up to the read option and pistol formation. What isn't likely to dissipate, however, is increased value placed on quarterbacks like Colin Kaepernick, Russell Wilson and others: Excellent passers who can also be a threat as designed runners.