Good news for the five or six people who have asked me about our Inside Slant podcast over the past few months: It's back! Mike Sando and I recorded a post-combine/pre-free agency show

that happened to take place on the day the story broke that the San Francisco 49ers were going to trade quarterback Alex Smith to the Kansas City Chiefs.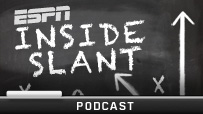 Mike and I discussed that deal, which the Minnesota Vikings apparently sat out, and also tried to make some sense of this week's contract agreement between quarterback Tom Brady and the New England Patriots. Finally, we tried to provide some context to the crazy 40-yard dash times coming out of the NFL scouting combine.
Did you know the average 40 time in this combine almost exactly matches the average of the past 14 combines? In other words, despite the excitement of a few super-low runs last week, it's hard to say this draft is any faster than recent vintages.