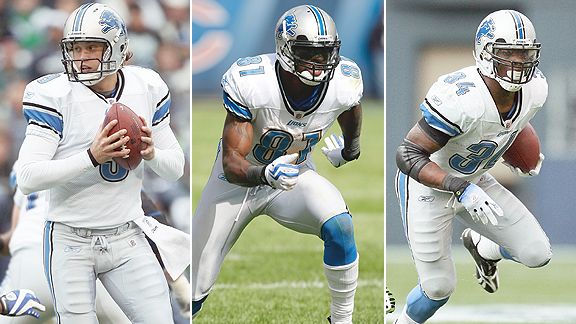 Getty Images
Quarterback Matthew Stafford, receiver Calvin Johnson and running back Kevin Smith are players the Lions can build around.
Detroit cornerback Phillip Buchanon lingered a bit longer than usual in the Lions' locker room at halftime Sunday, receiving treatment for a minor injury. Really, there was no rush. The Lions were scheduled to receive the second-half kickoff, and Buchanon wasn't a member of the return team.
But these are the Lions, and seemingly on cue, tailback Kevin Smith fumbled on their first offensive play. With Buchanon temporarily unavailable as the defense took the field, Detroit coaches sent out newcomer Jack Williams. Earlier in the week, Williams had become the seventh cornerback to pass through the Lions' revolving door dating back to the start of the season, yet another attempt to elevate their talent level.
On his first play, a 27-yard run by Minnesota tailback Adrian Peterson, Williams suffered a season-ending knee injury. He will be placed on injured reserve this week.
Alas, Detroit is no luckier -- and only one victory better -- since compiling the NFL's worst-ever season in 2008. I've seen the Lions play in person three times this season, most recently on Sunday. There have been a few encouraging signs, but overall I'm mortified by what seems to be a tremendous talent gap across most positions.
I can only assume that's what coach Jim Schwartz was referring to last week during a conference call with Minnesota reporters. Asked to encapsulate his first season with the Lions, Schwartz said, "I'm certainly not discouraged but there hasn't been a whole lot of encouraging either. I think the best word is determined. We know what our issues are. We are going to work hard to get through them. We still have a lot of work to do. We know that and we are determined to get done."
The Lions could and probably should pick up their second victory Sunday when they host Cleveland. But a realist would say their best-case scenario for 2009 is 4-12, and even that might be stretching it. More importantly, as Schwartz seems to admit, the Lions remain deeply encumbered by a talent shortage brought on by a decade of poor drafting.
So while the topic is fresh in all of our minds, I thought I would scan the Lions' roster and divide the players into three categories:
Keepers. These are players the Lions can build their future around.

Worth Learning More About. For various reasons, I wouldn't give up on the players in this group.

Others. This one is pretty self-explanatory.
You can see the results of this exercise below. (No sense calling out the Others by name. It's their island, anyway.)
A few notes and thoughts:
As you can see, I came up with only seven nucleus-type players, along with seven more who have the potential to be part of a core group. Keep in mind that every team has a relatively small nucleus with a bunch of complementary players around it. I don't think I was a particularly tough grader here, but a nucleus should represent more than 13 percent of your players.

Cornerback is a position that many NFL teams have trouble establishing. But for the Lions not to have one nucleus-type player on either of their lines, at least by my reckoning, is most troublesome. It takes years to develop a good, cohesive lines. Last Sunday's matchup against Minnesota provided an exaggerated example of the issue: Quarterback Matthew Stafford got pummeled while the Vikings' offense rushed for 152 yards and passed for 344 with only one sack. There's a reason why the cliché still exists: It really does all start up front.

For me, the Lions' next step is to spend the rest of this season performing a similar exercise: Which players can Schwartz build around? Which ones are toast? Then you just start in one corner and start working your way out. If it were me, I would make linemen on both sides of the ball the top (and perhaps single) priority this winter.

There are some good complementary players whom I left off this list because, based on age or history, it's hard to envision them as more than short-term solutions. That group includes Buchanon, tight end Will Heller, cornerback William James and linebacker Larry Foote.

I realize linebacker Ernie Sims isn't on this list. I think he is and can be a good NFL player, but he might better suited to play in more of a Tampa 2 style scheme. Even before he started dealing with shoulder and hamstring injuries, it has seemed the Lions were intent on moving rookie DeAndre Levy past him. I could be wrong about that and am willing to listen to alternate theories and evaluations.

I can't say I had any specific criteria for making these selections. They're based on what I've seen, along with what I've heard from people I trust. I consider this list a jumping-off spot for future discussion. I know some in our Lions audience are still mad at me for bailing on training camp, but hopefully we can move past that.
Let me know what you think, and we'll continue to revisit the topic through the second half of the season and into the winter.