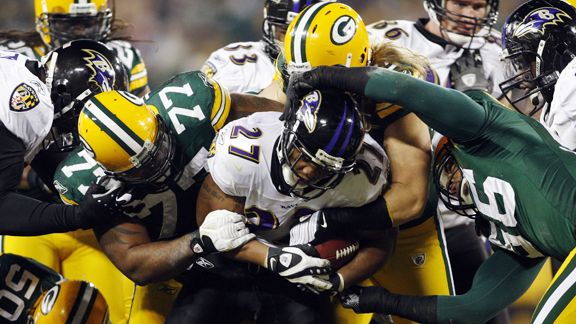 Jerry Lai/US Presswire
The Green Bay defense swarmed to the ball all night, limiting Baltimore to just 185 yards, while forcing four turnovers. "This game was a proving ground for us," linebacker Nick Barnett said.
GREEN BAY, Wis. -- Nick Collins shook his head. A smile melded into a smirk of exasperation.
"What did they have tonight?" Collins said. "What was it, 190 yards total? You can't say much more after that. The defense was phenomenal."
Indeed, Nick. Indeed.
Back in geometry class, we called it "Q.E.D." -- a Latin acronym meaning "that which was to be demonstrated." Yes, Collins and his Green Bay teammates set out Monday night to demonstrate that they have built an elite-caliber defense. A few knuckleheads considered that topic up for debate, but I think it's safe to say we have a winner if there ever was an argument.
The Packers forced four turnovers, limited Baltimore to 185 total yards -- five less than Collins' guess -- and reclaimed the NFL's No. 1 overall ranking in a 27-14 victory at Lambeau Field.
I don't get out of the Black and Blue much, and so I can't instantly analyze the state of NFL defenses. But there's no doubt in my mind the Packers turned a major corner Monday night by overshadowing a team long known for its defensive intensity.
"We're playing with a lot of confidence," linebacker Nick Barnett said. "It's not false confidence. This game was a proving ground for us. All we heard about was the Ravens' defense and Ray Lewis and all those guys. We wanted to go out and show we're a good defense as well."
If I recall, we've noted Minnesota's offensive transformation once or twice on this blog. Tonight, I'll say the Packers' defensive transition has been no less impressive and every bit as significant. Green Bay has shed its passive reputation and embraced coordinator Dom Capers' new demands for aggressiveness, all while absorbing his complex 3-4 scheme.
Some people will always identify the Packers with their dynamic passing attack. But their defense has caught up and put the team in excellent position for a wild-card playoff berth.
"It starts with our defense," coach Mike McCarthy said. "That's the face of our football team. That's the way we want to be identified…."
In the NFL, you can't assign yourself an identity. It's assigned by others. But ask yourself this question: What was more responsible for the Packers' victory Monday night? Other than a briefly wild stretch during the third quarter, in which the Ravens converted two turnovers into touchdowns to pull within 17-14, I thought the answer was clearly the defense.
Capers has employed every variation of every front you can imagine this season, but against the Ravens his game plan was as simple as it has been all year. The Packers opened with an extra man in the box to keep tailback Ray Rice in check, but then played a bigger proportion of base defense than normal.
The Packers won a strength-against-strength battle with one of the NFL's more explosive offenses going away. They held the Ravens to 66 rushing yards Monday night, the ninth time in 10 games an opponent has netted less than 100 rushing yards.
Meanwhile, according to ESPN's Stats & Information, the Packers used standard pressure (four pass-rushers) on 27 of quarterback Joe Flacco's 36 passes. Despite the minimal blitzing, Green Bay sacked Flacco three times, intercepted him on three other occasions and held him without a completion that traveled longer than 15 yards in the air for the first time all season.
This all came with three rookies -- defensive tackle B.J. Raji, linebacker Clay Matthews and linebacker Brad Jones -- seeing significant playing time. Raji tackled tailback Willis McGahee for a 3-yard loss in the second quarter. Matthews finished with six tackles, two sacks and a forced fumble. Jones had a sack among his four tackles.
As he stood outside the Packers' locker room, Capers made no attempt to contain the excitement his group is generating.
"I like the direction we're headed," he said. "I've always believed that the month of December is where teams start to separate. It goes one or two ways. It becomes obvious which way a team is heading. And I like where we're heading."
That became obvious in the fourth quarter Monday night, when the Ravens had a first-and-goal at the Packers' 1-yard line with 9:46 remaining. Cornerback Charles Woodson slashed through the line to drop McGahee for a 2-yard loss on first down. Cornerback Tramon Williams stepped in front of receiver Demetrius Williams to intercept Flacco on second down.
And when the Ravens regained possession two minutes later, linebacker A.J. Hawk sealed the game by racing 25 yards downfield to intercept Flacco on a deep seam pass.
The play also ensured the Packers would overtake the New York Jets for the NFL's top overall defensive ranking, based on total yards allowed. There are some flaws to basing rankings on total yards, but there's no doubt the Packers are taking pride in the accomplishment.
"It's the biggest goal for our defense," Barnett said. "Obviously, we want to win games, but our goal when we started was to be the No. 1 defense. … I don't want to say we're the Steel Curtain of back in the day or anything like that. But hopefully, we can prove that we're one of the best defenses out there."
Q.E.D.