EDEN PRAIRIE, Minn. -- We're skipping FavreWatch today to focus on an issue more pressing to the NFC North's top team. Rookie receiver Percy Harvin wasn't available for Minnesota's practice Wednesday because of ongoing migraines, an issue being met with mounting concern within the Vikings' organization.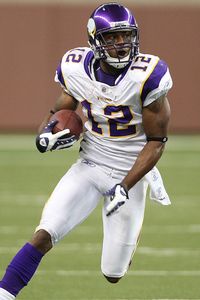 Matthew Emmons/US Presswire
Vikings wide receiver Percy Harvin's migraines are of growing concern in Minnesota.Coach Brad Childress acknowledged Wednesday Harvin is visiting with specialists who are trying to "allay their fears in terms of finding other things and worse things" that could be causing Harvin's intense, debilitating symptoms. Childress said the Vikings are in the process "right now" of looking for "any common denominators" to explain why this attack has lasted longer than others Harvin has endured this season and throughout his adult life.
"It's kind of an abstract thing right now," Childress said. "We know that he gets headaches. We don't know the whys and the whatfors."
As anyone who has had migraines can attest, they are far more serious than standard headaches. For Harvin, the pain has been "debilitating," Childress said, and has required a complete physical shut down. Harvin was back at the Vikings' facility Wednesday after missing Sunday's game against Cincinnati. He participated in a morning walk-through, and Childress said he would practice in the afternoon "God willing."
As it turned out, Harvin was not on the field during the portion of practice open to reporters. His absence cast doubt on whether he will play Sunday night against Carolina and made it fair to question his availability during the Vikings' playoff run.
Even if he recovers soon from this episode, the Vikings know another round could develop literally at any time.
"It's important for us to get some kind of baseline if we can, doctor-wise, and yet still that it's unpredictable," Childress said. "We as coaches, the controlling types, would like to be able to control those things. But that's something that's beyond my control."
Childress said the Vikings knew before drafting Harvin that he suffered migraines during his college career at Florida, which caused him to miss two games as a sophomore. But Childress admitted no one predicted the severity and frequency with which they have occurred this year.
"Just knew that it said 'migraine headaches' on the scouting report," Childress said. "It wouldn't have been a disqualifier or anything like that [if they had known more]. But I think anyone that reads the scouting report, I don't know that we would have looked into it and said, 'Oh boy, to what extent?' Not to the point where he's missed a bunch of games or anything like that. We'll be wiser next time. Again, it's just something we have to learn and deal with."
The Vikings handled a tough Bengals team without Harvin last Sunday, but there is little doubt he has been a critical part of their success this season. With 48 receptions, a 29-yard kickoff return average and a total of eight touchdowns, Harvin is a leading candidate for rookie of the year honors. Quarterback Brett Favre, who has targeted Harvin on third down more than any other receiver, said "it's just not the same" when Harvin doesn't play.
"He's so fast and physical inside," Favre said. "It's just hard to cover him one-on-one and he makes teams pay for it. … If he's not in there, you're going to see maybe a little different approach defensively than maybe you normally would."
It's important to avoid ringing the alarm here. Migraines can vanish as quickly as they arrive. But when one of your key players has the potential to be sidelined at any time, it's cause for concern. That doctors are performing further tests is also something to note. We'll keep you updated.