Five nuggets of knowledge about Week 16: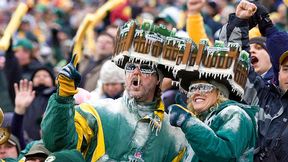 Jeff Hanisch/US Presswire
Seattle travels to Lambeau Field Sunday for a December battle with the Packers. It's a place and time of year where the Packers have been dominant.1. Let's just say it would be a huge, huge upset for Seattle to win Sunday at Lambeau Field. Forget for a moment that the Seahawks have lost their past two games by a combined score of 58-14. Consider that Green Bay is as close to a lock as you can be when playing at home this time of year. The Packers have won 19 of the 23 regular-season games they've played at Lambeau in December or later during this decade. And according to the Elias Sports Bureau, that number is 33 of 39 dating to 1992. The next-best team over that span is New England (28-8). A victory over the Seahawks would give the Packers 10 victories, which could very well be enough to get them into the playoffs.
2. Packers coach Mike McCarthy took some unique steps this week to guard against any hangover from last Sunday's stunning loss at Pittsburgh. Among other things, McCarthy started showing players film of the Seahawks on Monday. Like most NFL teams, the Packers typically spend Mondays evaluating film of the previous game and don't introduce the next opponent until Wednesday of the practice week. The focus in Green Bay this week has been to look ahead, not behind.
3. As they attempted to quell their public feud, Minnesota coach Brad Childress and quarterback Brett Favre agreed on at least one item. "I know our offense starts with Adrian Peterson and that's where it ends," Favre said. "We have to get that back on track." Along those lines, Nathan Easler of ESPN's Stats & Information dug up an interesting note. The Vikings are 15-2 over the past two years when they pound Peterson up the middle at least eight times. When they don't, they're 6-7. There is an old adage about a successful running game being just as much about quantity as it is quality. As unexciting as it sounds, the Vikings must emphasize Peterson on Monday night at Soldier Field. Remember, Chicago is allowing 128.5 rushing yards per game -- the eighth-worst mark in the NFL.
4. Something's got to give Monday night when it comes to the weather conditions. Long-range forecasts indicate temperatures between 24 and 28 degrees at Soldier Field. The Bears have won their last 10 home games when the temperature was 32 degrees or colder, including in the playoffs. They've won those games by an average score of 26-13. And, in case you haven't heard, Favre isn't a big fan of playing in cold weather anymore. He's lost his past seven starts when the temperature at kickoff is 38 degrees or lower, dating to the 2003 playoffs.
5. Detroit quarterback Drew Stanton will get a chance to halt another ignominious Lions streak when he makes his first NFL start Sunday in San Francisco. The Lions have lost 19 consecutive games on the road, the fourth-longest streak in NFL history. (You might not be surprised that Detroit holds the league's all-time mark, 24, set from 2001-2004.) The Lions last won a road game in Chicago on Oct. 28, 2007. Stanton's fiery competitiveness might be his best attribute, and you should never rule out the possibilities created by a player trying to capitalize on the best opportunity of his career.