Three nuggets of knowledge about Sunday's NFC Championship Game between the Minnesota Vikings (13-4) and the New Orleans Saints (14-3).
1. Hopefully you've caught most of our preview work this week. If not, click here for a filtered refresher. New Orleans and Minnesota seem pretty evenly matched, but one fact seems clear: We're guaranteed a fresh NFC storyline no matter who advances to the Super Bowl. The Vikings have lost in their past four appearances in the NFC Championship Game (1977, 1987, 1998 and 2000) and haven't been in the Super Bowl since the 1976 season. The Saints, meanwhile, are making only their second appearance in this game. It's the first time they've hosted it. If they win, the Saints will become the first team in NFL history to advance to the Super Bowl after losing its final three regular-season games.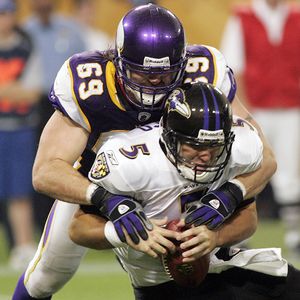 AP Photo/Paul Battaglia
The Saints will want to put more than one person on Minnesota defensive end Jared Allen.2. Recent Saints-Vikings games have been wild, and the circumstances of this game -- the teams ranked No. 1-2 in scoring this season -- promise another entertaining affair. There have been four other conference championship games that featured the regular season's top two scoring teams. Seven of the eight participants scored at least 20 points in those games, and the winner has always scored at least 30 points. The only offense that went belly-up in that situation was the 1989 Los Angeles Rams, who lost 30-3 to San Francisco. So if you're into the over-under, odds are you should take the over.
3. Defensive linemen Ray Edwards and Kevin Williams both are battling knee injuries and won't be 100 percent for Sunday's game. That will place even more emphasis on the matchup between Minnesota defensive end Jared Allen and New Orleans left tackle Jermon Bushrod. It would make sense for the Saints to give Bushrod plenty of help, but they probably will balance it with their schematic desire to get tight ends and running backs into the pass routes. Allen has torn up most one-on-one matchups he's faced this season and is fast enough to get to quarterback Drew Brees even on three-step drops.