Posted by ESPN.com's Kevin Seifert
NEW ORLEANS -- I was messing around with my new camera phone earlier this evening and snapped the picture below. The dots you see are Green Bay's players walking across the Superdome field to the visiting locker room.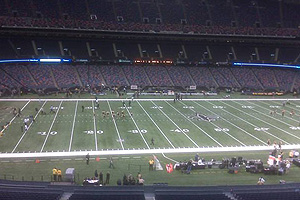 Now I know what they mean by "zoom."
Not sure if there's great news value there, but I recognize that pictures are good and we should have more of them on this blog. If nothing else, you can see my vantage point from the press box. It's actually a great seat.
Fifteen minutes to kickoff.