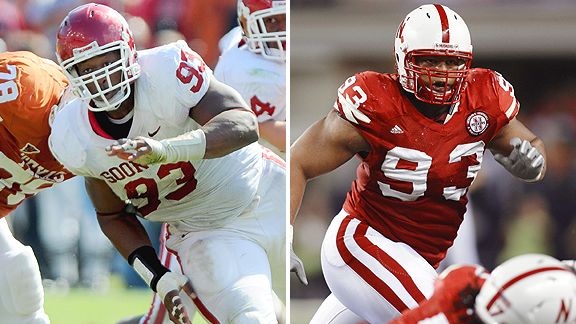 US Presswire
Which defensive tackle would produce greater gains for the Lions: Oklahoma's Gerald McCoy or Nebraska's Ndamukong Suh?It's difficult to find a mock draft these days that doesn't pair Detroit with Nebraska defensive tackle Ndamukong Suh. And amid the paradox and hedging that defines media draft analysis, it's commonplace to see Oklahoma's Gerald McCoy ranked above Suh as a pure prospect.
(Mock draft evidence here, here and here. Ranking reversal at Scouts Inc., NFL.com, and Pro Football Weekly. ESPN's Mel Kiper is one of the few Suh supporters in both categories.)
"You could flip a coin on these two," Kiper said last week. But with Detroit poised to choose between them with the No. 2 overall pick, the important question is this: Can you? Are McCoy and Suh truly interchangeable prospects? Or will we look back one day and scrutinize the decision the way draft historians have broken down the 1998 choice between quarterbacks Peyton Manning and Ryan Leaf?
To be sure, Suh-McCoy is not nearly as dramatic as Manning-Leaf. Defensive tackles don't impact a game the way quarterbacks do, and Leaf represented an extreme case of draft flameout.
But for the first time in 34 years, we're expecting two defensive tackles to be among the first five picks of an NFL draft. Usually we're discussing whether there are any tackles worthy of that honor, let alone trying to draw distinctions between two.
That dynamic, along with conventional draft history, suggests it would be a folly to be believe both players will have comparable careers. I couldn't find a suitable metric for determining draft success, but I can tell you many NFL personnel men follow a general principle espoused by Chicago general manager Jerry Angelo this week. "Half of the first round won't play to expectations," Angelo said.
Those who fall short of expectations aren't necessarily busts. The high threshold for first-round picks, let alone those taken in the top 5, is hard to meet. Historically speaking, there is a right and wrong -- or, at least, less right -- decision to be made here.
We've had so many discussions about whether the Lions should consider a left tackle at No. 2 overall that I think we've failed to give enough consideration the more likely scenario: Choosing between Suh and McCoy. How should the Lions make that choice?
I don't know if any of us can answer that with certainty using present-day facts. What we can do, however, is offer the parameters the Lions are surely considering in their analysis.
Production
McCoy vs. Suh: Impact plays, 2009
McCoy vs. Suh: Opp. 3rd down pass, 2009
McCoy vs. Suh: Sacks by No. blockers, 2009
Many scouts will tell you they prefer to have seen a player produce in games rather than assume what they might do in the NFL. By that measure, Suh's production outweighed McCoy's from every measurable vantage point.
Most of you already know the basics: McCoy had 14 sacks in his college career. Suh managed 12 last season. But the charts to your right, compiled by ESPN's Stats & Information, more fully illustrate Suh's tangible production in each player's final college season.
As you can see, Suh managed 88 impact plays -- sacks, tackles for losses, quarterback hurries and deflections/interceptions -- last season to McCoy's 46.5. Suh was also more effective on third downs. It's true that Suh played one additional game, but the ratio is still 2-1 when you consider it from the perspective of impact plays per snap. The same is true when you measure Suh's performance against double teams relative to McCoy.
The numbers alone shouldn't account for a choice between the two, but you would be hard-pressed to find a scout that doesn't place premium value on demonstrated college production. Asked about the statistical discrepancy at the combine, McCoy said his job at Oklahoma was to be a "disruptor" and "make sure [the ball] doesn't get past the line of scrimmage." In that assignment, McCoy implied, it was more important to re-direct the ball carrier than it was to make the tackle itself.
Which brings us to ...
Scheme
Another paradox of the Suh-McCoy debate is that Suh played in a "two-gap" system at Nebraska while McCoy was in a "one-gap" scheme at Oklahoma. For those who don't know what that means: The number corresponds to how many lanes between offensive linemen the defensive lineman is responsible for.
The conventional expectation for a two-gapping defensive tackle is that he will clog the line and allow linebackers to jump in and make a play. A one-gap defensive tackle typically has more freedom to get into the backfield and make a play because he has only one direction to worry about.
If anything, given those parameters, you would have expected McCoy to compile better numbers. But Suh's production advantage means the Lions will have to make schematic projections on both players.
In McCoy's case, they'll have to determine why Suh was more productive in a less aggressive scheme. For Suh, the Lions will have to project if he would be equally as effective as a penetrator as he was in holding up the line of scrimmage and finding the ball.
The Lions, it should be noted, run a scheme closer to Oklahoma's than Nebraska's. They will ask Suh or McCoy to be aggressive and get into the backfield with one-gap responsibility.
Although I doubt he would admit otherwise, Lions coach Jim Schwartz said last month that either player would fit their scheme.
"That's not what those players are," Schwartz said. "That's what they were asked to do. They're very similar in their skill set. I think both of them -- if you took Suh to Oklahoma and McCoy to Nebraska -- I think they'd both excel in the other person's defense. When you are drafting at the top of the draft, you're looking for guys who aren't just a creation of the scheme. You're looking for guys who have multidimensional skills that can do a lot of those different things.
"Both guys are big. They're fast. They have high character and both are productive at a high level of competition. There's a lot to like with both of them."
But with projections required for both players, scheme clues don't help clarify the issue.
Background
There are no obvious red flags for either player, but you consider every background blip when drafting as high as No. 2. Suh's medical report has drawn some scrutiny because of two knee injuries, including a torn meniscus that required him to redshirt his freshman year.
McCoy, meanwhile, produced a disappointing 23 repetitions on the bench press at the scouting combine and hasn't made another attempt to increase that total. Is a low bench-press total a reason to pass over someone in the draft? Not necessarily, but it's certainly worth further investigation to ensure McCoy is entering the NFL with the strength necessary to take on 320-pound guards and centers.
As Schwartz noted, both players have excellent character reputations. If you haven't already, make sure you check out ESPN.com profiles of McCoy and Suh. For what it's worth, McCoy was president of Oklahoma's chapter of the Fellowship of Christian Athletes.
What to do?
There are no obvious hints of a potential bust from either player, but expectations for a No. 2 pick extend much higher than that. Like any other team in their position, the Lions need dominance -- not just production -- from this pick.
If you're basing it on past performance, Suh would be the choice. If you want to take it deeper, it gets more complicated. And that's where we are now. Nine days. And counting.